I feel you.
Being a stay at home mom(SAHM) or even a work-at-home (WAHM) can be isolating at times.
You spend the whole day either nursing, listening to nursery songs over and over again, or doing a list of seemingly endless chores. For WAHMs, it's a constantly juggling act between work and kids.
It's exhausting, isn't it?
You feel as if your social circle has been reduced to family and a few friends. Before being a SAHM, you used to have a job that you loved or hobbies that helped you spend time with grown-ups.
To be honest, it was quite hard for me to go from a full-time job with weekend hangouts to being with my daughter almost 24/7. Of course, I love her to pieces but having a support group outside of home was important for me and my sanity.
Yes, I had a few friends who are mommies, but we rarely saw each other.
I wanted to connect with people who were going through the same thing as I was. And I wanted to belong to a group—even if it was just online.
So, I'm sharing with you some of the best mom groups on Facebook that I'm part of.
These groups were there for me when I was struggling with breastfeeding, with loneliness, and with finding myself in motherhood. Plus, now I gained some offline friends too.
Breastfeeding Pinays
This a breastfeeding support group that's behind the annual event , "Hakab Na!" which happens in August. I love this group because it has really good tips for new moms who are having trouble breastfeeding.
Everyone here can relate to you when your baby is using your breast as a pacifier (unlilatch) so you can't really do anything besides breastfeed. And they also share their experiences with weaning and twiddling.
Plus when your child becomes 6 months, you could attend their Tamang Kain seminar to know how to prepare healthy food for your little ones. We actually attended but my daughter was already 2 y/o at that time.
My good friend Mishi, who loves DIY parties, actually recommended that I join this group. I'm so grateful she did because I was able to breastfeed for almost 3 years.
Babywearing Philippines
I love this group because it encourages safe and proper babywearing. There are a lot of pictures and tutorials by members about how to wear certain carriers. you can even join pocket meet-ups to get to know other babywearing moms in your area.
Carriers are lifesavers especially when you have a clingy toddler.
Filipina Homebased Moms (Fhmoms)
I love this group. I get so much support and inspiration from this community. It's the biggest online community for Filipino moms , now with more than 110K members.
This community was founded by Ms. Maria Korina Cope-Bertulfo, who's popularly known in as Momshie MK.
It aims to help Filipino moms get online jobs so they can feel more productive and contribute to the family income. Fhmoms has fun meet-ups, events and FREE online trainings to improve your skills. They also offer advance courses depending on your goals such as becoming a social media manager, virtual assistant, online teacher, etc.
You could also join exciting challenges, giveaways and contests here.
Millennial Moms PH
This community was founded by Ms. Dette Zulueta of Millennial Moms Ph. I enjoy being part of it because I find their threads very helpful.  They have threads for recommending doctors, prayer requests, giveaways, etc.
Btw, have you tried joining a #MomTribe Meet-up? I did late last year and it was really fun. Each month, they invite guest speakers to share something about a certain topic. The one I attended was about being Partners in Parenting.
Crochet Addict Philippines
This is a fantastic group for anyone who wants to learn more about crochet. Many members (CAPatid or sibling) share their work and even free patterns.
I had to memorable and heartwarming experiences in this group. First, I was able to contribute beanies for children with cancer. Second, I joined an online Christmas exchange gift. It's amazing what technology can do to connect like-minded people.
Vivacious Mommas
This group was founded by Ms. Viva Chan of Ellie & Me Mommywear. I enjoy being part of this community because you can talk about anything related to parenting, womanhood and motherhood.
You can also get first dibs on lovely Ellie & Me clothes. You could also sell your pre-loved items in the online garage sale album. There are also raffles and giveaways from time to time.
Mamacademy PH
This group , started by Ms. Kaye Ang of Its Okaye Mom,  encourages mommies to keep learning.  What I love about this group is they have live learning sessions and workshops about many topics of interest (photography, homeschooling, etc) .
Actually, there are two upcoming events, one is for aspiring mompreneurs this weekend, February 23 and the other one is a speaking workshop on March 23.
Glam-o-mamas
Ms. Amanda Griffin Jacob started this discussion group to become a source of information and support from other moms. There are also awesome deals, giveaways and articles.
Like other mommy groups, it has topic threads such as breastfeeding, activities for kids, doctor recommendations and travel tips. By the way, this group is international so you'd have to write in English if you post anything.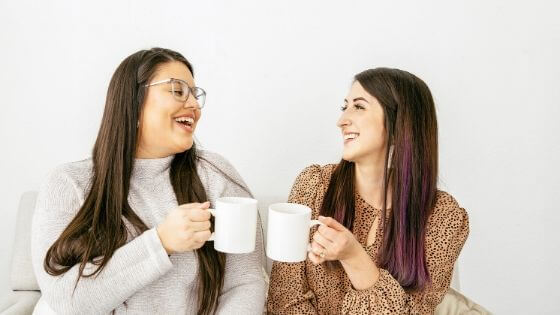 Healthy Baby Food Ideas Philippines
I wish I would have discovered this group earlier. This amazing group led by Ms. Bem Chua has healthy recipes and updated information about infant and toddler health.
What's great about this group too is that the recipes shared use readily available and affordable ingredients. They have handy tips on how to start solid foods for babies 6 months and up and what to feed them based on their age.
MOMpreneurs Club PH
This mommy community  intends to motivate and inspire moms to turn their passion and strengths into profitable business ventures. It was created by Mommy Lei, a mompreneur herself and the owner of Belle Ame Essentials perfume line.
It's a support group for both aspiring mompreneurs and those who already are. What I really like about this community is that you get to ask seasoned mompreneurs for advice and they respond.
Besides that, they have marketing threads for events, services and stuff you may need.
Frugal Living
If you're keen on getting the best tips and tricks to stretching your budget and living frugally, do join this group.
Filipino Homemakers
BKS means "Busy Kami Sa…" translated as " We're busy with.." This this a mommy community formed by eight mommy bloggers namely: Ms.Berlin of Momi Berlin, Kat of Petitemomma , Ms.SJ of All Around PinayMama,  Ms. Marie of Mamanee's Nest, Ms.Heart of Buhay Mommy, Ms. Jhoana of Playful Life With Kids,  Ms. Reylen of ReylenCastro, and Ms. Nedy of Nedy Lazo.
What I like about being part of this group is there are regular discussion prompts about a variety of topics from parenting to health and even humor.
Spark Joy Philippines
This is the latest group I joined. It was put up by Ms. Christine Dychiao, the only Konmari consultant in the Philippines so far. 
I learned that this community exists at the Konmari workshop I attended last month. I must say, it's a life-changing workshop for me. 
I really love being part of this group because members readily respond to my questions and even share their best tips about tidying up. 
Now, tidying up is one of my happy habits. And I feel much calmer now at home than I ever did.
Super Mom Global
This group established was by Ms. Hershey Morgan of  Zuri Baby Couture,  a well-loved brand of apparel and accessories for babies and toddlers. It aims to give support to moms in taking care of their children.
I just joined this group and I find that it shares relevant information for moms like post partum depression, birth plans and baby cues. 
So, here's my bonus group for you! I recently started a group for mommies like me, who enjoy FREEBIES. As you know, I'm quite a thrifty mommy so I find free stuff exciting. 
In this group,  we can share about online giveaways, workshops, events and resources that don't cost us money.  You can also ask and share advice on stuff except legal and medical advice.
I plan to have exclusive giveaways and possibly meet-ups in the future for my lovelies!
Are you a member of any of these groups? How's your experience so far?
Enjoyed this post? Please share it!
Let's stay connected: