This year I want CALM in my life.
I have been  described as a worrywart. And I must admit, this is true.
I brood over the things that could happen. The what ifs in life.
I'm a realist bordering on pessimism.To be perfectly honest, the last quarter of last year was quite stressful for me. I felt overwhelmed by certain issues which made me lose sleep and appetite. Fortunately, I'm making peace with thoughts and have been feeling much better.
As a first time mom to an energetic  and strong willed toddler, I've had my fair share of insecurities.  I get defensive when people comment on my child's weight even though she's within normal limits.
She's on the lean side and probably eats healthier than most toddlers her age.  I sometimes wonder if I'm a good parent with all my flaws and mistakes.  There are days when the inevitable chaos of raising a little kid makes me want to hide for some peace and quiet.
But I know I need to do something about all this negative self talk.
I know I need to quiet down the noises and just be the best mom I can be.
Keep calm and de-clutter
Do you know what I did on New Year's day? I cleaned! And it sure feels great! Too much clutter is a waste of time and energy. I'm seriously tired of picking up stuff and packing them away.
So, I'm letting go of a lot of stuff in the house starting with TOYS. Our living room has become my daughter's playground. And while I'm all for learning and play, too many toys is just too much work.  Plus, experts say fewer toys means healthier, more imaginative play.
I've never tried a specific method to declutter but I'd probably go room by room. For the bedroom, I'm probably going to have to let go of some of yarn stash since I'm not really using them.
I'd also update my wardrobe since I'm not breastfeeding anymore.  I'm going to raid the cabinets for expired medicine, makeup, and household products. What I'm trying to figure out is a system to lessen paper clutter.
Do you have some ideas? But for sure, I'm going to have to be more focused on NEEDS rather wants this year.
Before buying anything, I need to ask two questions: " Do I really need it now?" and "Does it have a place in our home at the moment?"  I don't want to buy more containers for clutter!
Keep calm and have a little more faith
I pray a lot but I must admit, I doubt a lot too. I wonder if my prayers would be ever be answered. I wonder if I could do more than just pray. 
This year, I'm going to work on putting more trust in Him.  I can only do so much.
One of the prayers that has been a source of comfort for me is the Serenity prayer. I'm going to hold on to it when times are tough and my faith is running low.
DON'T FORGET IT, PIN IT!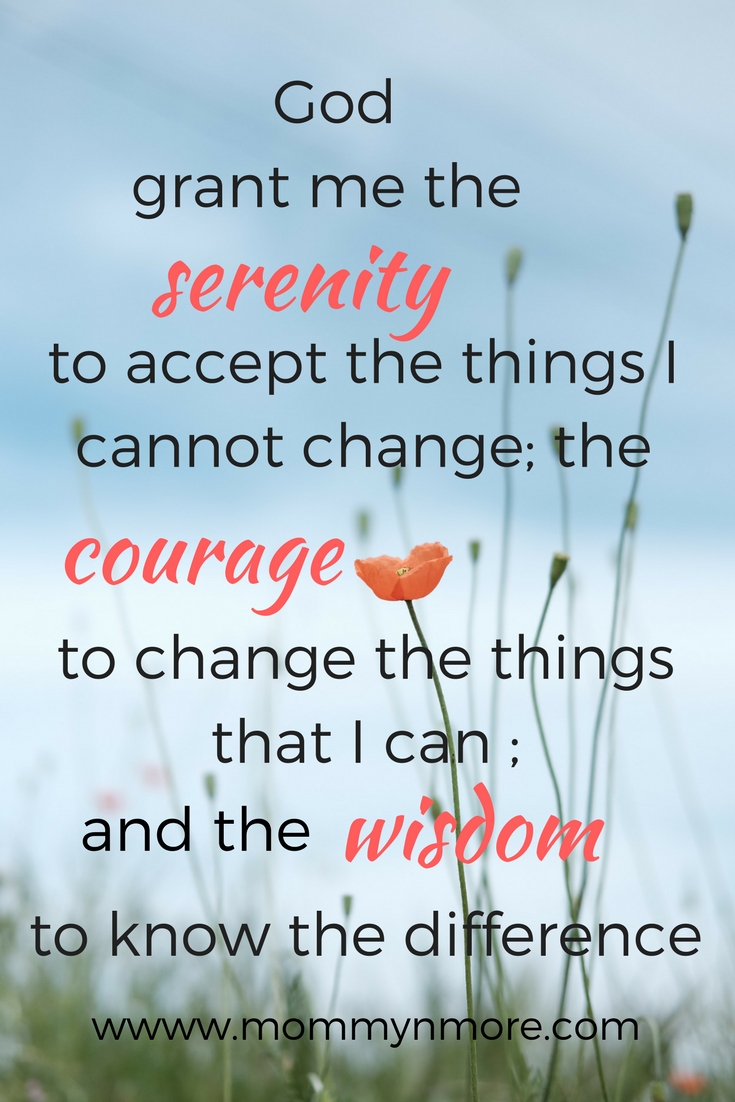 Keep calm and do what you love
A few days ago, I heard a quote on the radio that really struck me hard. The DJ said,
"Miracles start to happen when you give as much energy to your dreams as you do to your fears." ~ Richard Wilkins
I realized I've been putting too much energy on my fears rather than my hopes and dreams. How many nights have I laid in bed sleepless and thinking the worst? Countless!
I feel like I allowed my fears to take root and was watering them with my precious time and  serious effort.
This year, I'm going to spend time on things that give me joy and pleasure. I used to spend hours crocheting and learning foreign words. 
Instead, I busied myself on things I had to do and shouldn't do. Chores and worrying. Not a good combo. I would constantly space out in the middle of a chore and feel irritated by the littlest things.
This year and every year hereafter, I'm going to lean loveward.
Keep calm and be grateful
Looking for things to be thankful for isn't easy  for me sometimes. For instance, last night I didn't sleep well because of heartburn. Needless to say, I woke up in the wrong side of the bed..
But remembering that my husband massaged my back at midnight, my mood changed. He also made breakfast. Hmmm, I don't feel tired so I probably had decent sleep. I woke up with my husband and little girlie.
Come to think of it, there's actually lot to be thankful for. That thought made me smile.
It's probably been a few months since I last wrote on my gratitude journal. I guess I just felt too tired from all the stress and worrying. Everyday,  I  know I need to shift my attention from my struggles to the blessings I know I need to focus on what's going right in my life.
Gratitude leaves no room for complaints and apprehension. I'll try to write more often.
We also recently started a morning  routine as a family. Every morning we'd go to the rooftop and savor the sunshine.
The, my little girlie  cheerfully told me, " Mommy, let's go sunshine ".

This made my heart full.
Ah sunshine. I breathed in a bit of hope and felt a sense of calm.