A haircut can either be a wonderful or traumatic experience for kids and parents alike. Most would consider the first haircut a milestone.
As for my little girlie, it was my brother-in law who "technically" first cut her hair.  Why?
Well, we have this Ilocano superstition that the first haircut should be done by someone very smart so your child would also be like him or her. And my brother in law graduated magna cumlaude from the University of the Philippines with a course that I rarely hear about— Materials Engineering.
Keeping my fingers crossed here that it's gonna be effective!
Anyway, we  also decided to let her have the kiddie salon experience. It was a bit stressful but thankfully, we pulled through.
So, I'd like to share five (5) quick tips to an enjoyable salon experience for your little one.
♦ Go to the salon before your actual appointment. This will hopefully make your child feel more at ease during the actual haircut session. He or She'll also see that there are other kids that like having their haircut done there.
♦ Be prepared. Remember to bring his or her favorite snacks or toys to the salon. You might also need to bring someone, like a close friend or  favorite sibling to calm your child down in case of a tantrum.
♦ Timing is everything. Make sure your child is not sleepy or hungry before going to the salon. I know you can gauge when is a good time for a haircut. Somehow, we moms just know it.
♦ Shower your child with compliments on how he or she looks after the haircut.  You could tell them that their short hair suits them and they look even prettier or more handsome.
♦ Pick out the right kiddie salon for your child. You need hairdressers  have experience with fussy and squirmy little clients. It would also help a lot if the salon has a friendly and inviting atmosphere.
*This post is brought to you by Robots and Dolls Salon. All opinions are mine.
Robots and Dolls: Salon for Kids and Teens
Speaking of the right kiddie salon, I recently learned about a popular kiddie grooming salon called Robots and Dolls Salon. They have three branches, the most recently opened one is at Venice Grand Canal Mall in Taguig. 
Now, if your toddler or child needs a haircut ASAP, here are awesome reasons to consider going to Robots and Dolls, especially if you live south of the metro:
♥  Playful and interactive kiddie environment
Little boys and girls could sit in chairs designed as cars and play with toys and Ipads while getting their haircut.  
For girls, they can get the Dolly Cut while boys get the Robo-Cut. If your little girl just needs her bangs cut, then its the Dolly Trim for her.
They also have First Cut Packages with a snippet of your little one's hair and a certificate.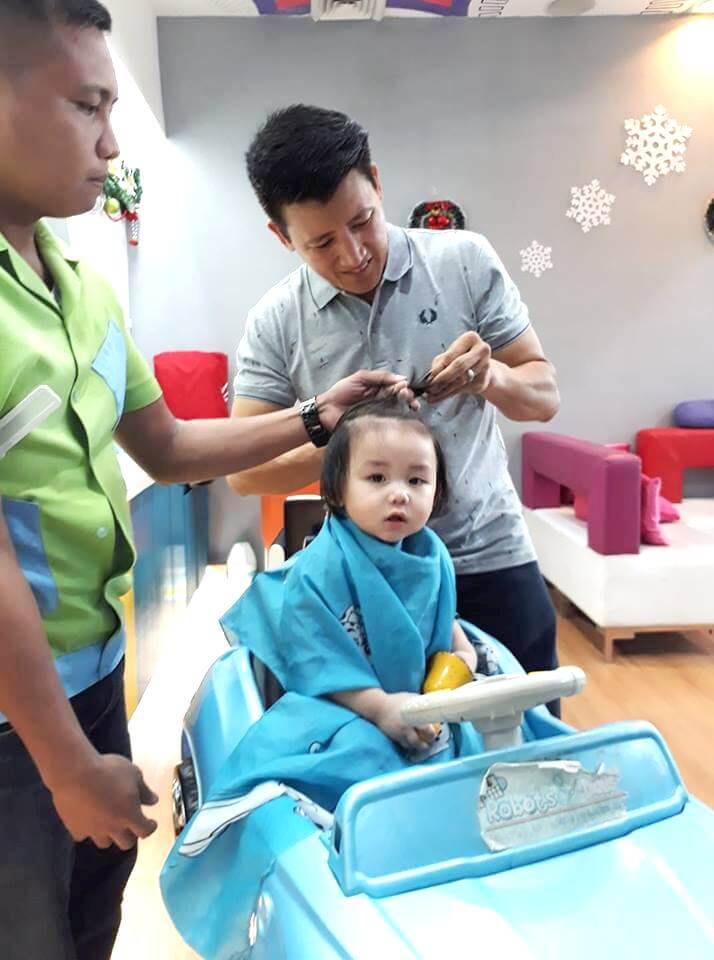 ♥  Qualified and well-trained staff
Your children are in capable hands so you too can enjoy bonding with your kids at this salon. Their clients are mostly toddlers, kids and teenagers.
Here are their services: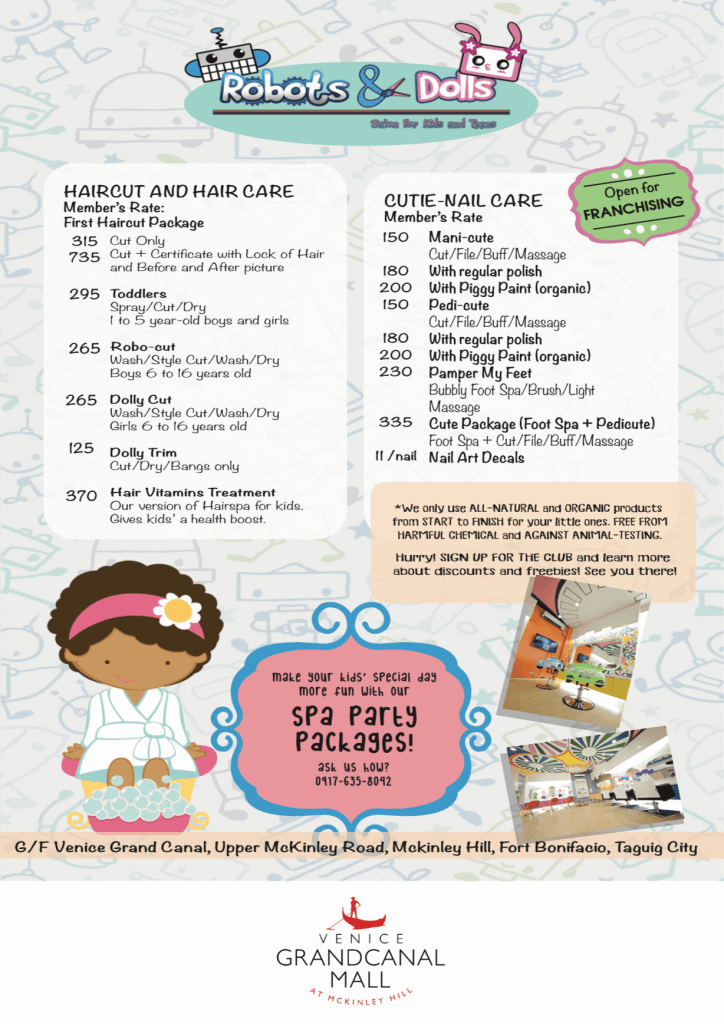 ♥ Pampering packages + FREE haircut
It's great they have different packages combining haircut and nail care. They call their nail services  mani-cute and pedi-cute.  For example, you could have have your child's hair and feet pampered or get the hair treatment + Dolly cut combo.
The good news is you could book an appointment through their Facebook page! I'll share the link at the end of this post.
Plus your child can get a FREE haircut on his or her birthday month when he or she has visited at least 5x in one year!
♥ Spa Party Packages
For your child's birthday or other special occasions,  you could book the salon to have that exciting spa party! I've never actually joined a spa party but just thinking about having my hair and nails pampered gets me really thrilled.
Oops, were we  talking about the kids?
♥  Eco-friendly products
They use natural organic products in their hair care and nail care services. They apply products that are free from harmful chemicals and were not tested on animals.
Robots and Dolls and Squeaky Clean Kids Campaign
Speaking of which, Robots and Dolls Salon will be conducting an outreach program with Squeaky Clean Kids at Gawad Kalinga Enchanted Farms in Bulacan.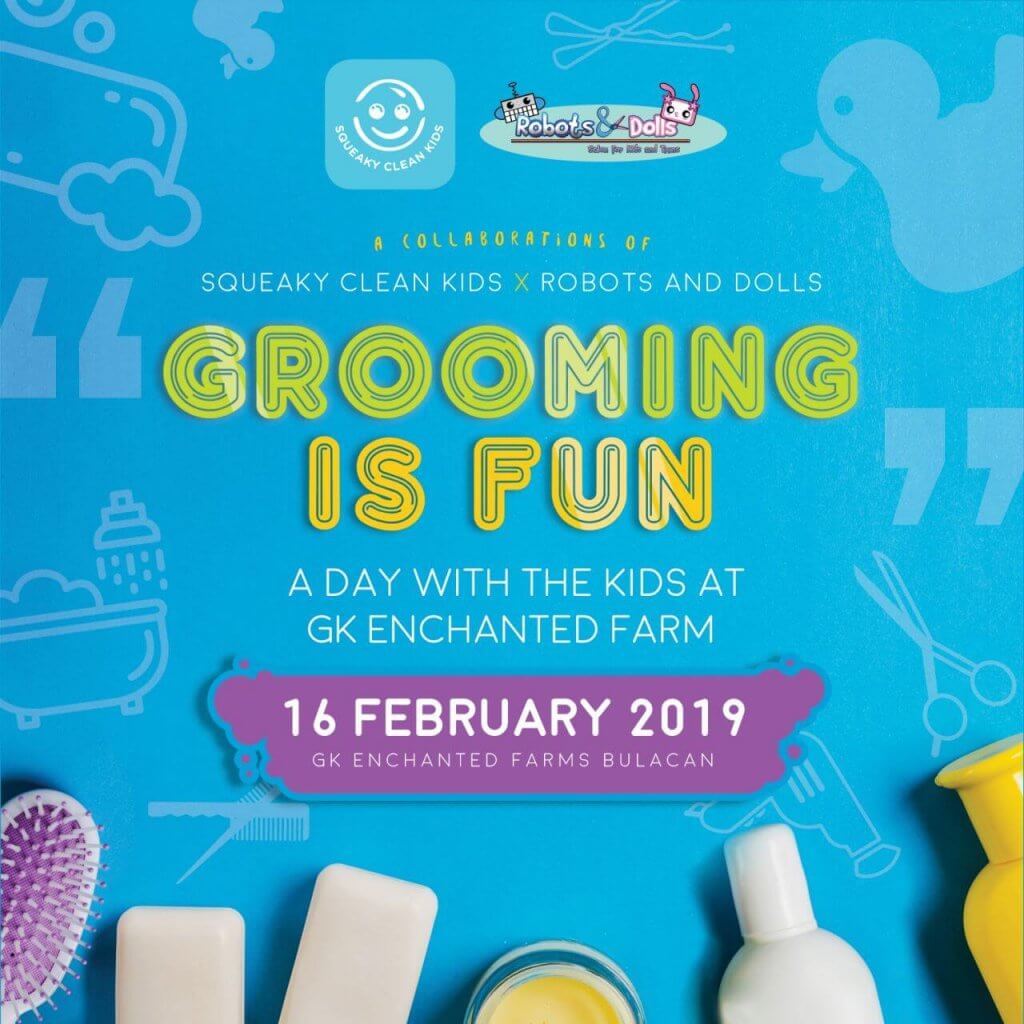 Squeaky Clean Kids is a local brand of artisan soaps that helps underprivileged children. They conduct hygiene awareness campaigns and environmental education in different under-served communities.
When you buy a Squeaky Clean Kids soap, you give one handmade organic soap to a child in need.  If you'd like to join this activity please contact Robots and Dolls Salon on Facebook.
And oh btw, starting March 11, you could already purchase Squeaky Clean Kids soap bars at Robots and Dolls Salon branches.
Robots and Dolls Salon Giveaway
Now, if you'd like your child to have this fun salon experience, here's your chance!
Our generous friends at Robots and Kids Salon will be giving away  three (3) gift certificates worth P1,000 each! If you win, you can claim your gift certificate at any of their three branches: 
Las PiÑas : 2/F Robinson's Place Zapote Road

Lucky Chinatown: 3/F Building A, Lucky Chinatown Binondo, Manila

Venice Grand Canal Mall: G/F Upper Mckinley Hill, Taguig
So, three (3) lucky Mommy N' More readers who live in Metro Manila can win P1,000 GC each!  Two (2) winners from Facebook and one (1) from Instagram.
I'll be posting the mechanics very soon on Mommy N' More's Facebook page and  Instagram account! Stay tuned!
For the meantime, check out the happy kids getting their haircuts and having spa parties on Robots and Dolls' social media accounts!
ROBOTS AND DOLLS- Salon for and Teens
*Images courtesy of Robots and Dolls Facebook page
So, has your little one tried having a haircut at a salon? How was it?
Enjoyed this post? Please share it!
Let's stay connected!