It's hard when your kids are sick, right? Sometimes we feel helpless or even overwhelmed.
That's why it's better to be on the preventive side like my mom always says.
As a mom, I know I need to take care of my little girlie's tummy. While we try to give her healthy food, I must admit that there are a lot of times that her diet is a lot less than ideal.  
On top of that, she's a rather picky eater.
So, I sometimes worry about her digestive health, especially when she has tummy troubles like constipation, stomachache or diarrhea.
Kindly note that this post is for informational purposes only and  NOT substitute for expert medical advice. As always, it is best to consult your family physician for any concerns before taking any health supplement. Please do what you think is best for your child.
Prebiotics and Probiotics: Supporting Good Bacteria For Happy Tummies
Did you know that a healthy balance of good and bad bacteria in our tummy can help us from getting sick?
Yes, when we have dysbiosis or gut imbalance,  we can feel unpleasant symptoms like nausea, bloating, diarrhea, constipation and even bad breath. 
To maintain a healthy gut,  we can take in prebiotics and probiotics.
Prebiotic is a kind of fiber that encourage more healthy bacteria to grow in our gut. You can eat artichokes, onions, garlic, bananas, asparagus, oats and apple skin to get prebiotics.
In short, prebiotics act like fuel for probiotics.
Probiotics are live cultures or good bacteria found in food and drinks. You can find them in yogurt, sauerkraut, miso soup, kimchi, and sourdough bread.
My daughter and I love yogurt and miso while my husband can't stop eating kimchi.
Besides food, you could also take supplements. For some time, my daughter actually took probiotic supplements daily as advised by her pediatrician.
Benefits of Probiotics for Kids
What you need to know about taking Probiotic Supplements
We measure probiotics in CFU (colony forming units). Usually, experts recommend a billion CFUs to maintain gut health.

 You need to follow the recommended storage to make sure the bacteria survive. Some probiotics need to be placed in the refrigerator to lengthen their shelf life.

If used to treat a specific medical condition, consult your doctor first.

According to my child's doctor, we need to rotate between bacteria strains to diversify the kinds of gut bacteria. We usually switch between two to three multi-strained supplements every month.
Erceflora Probibears for a Beary Happy Tummy
I recently found out about this new supplement for kids called Erceflora Probibears. They are yummy chewable probiotics.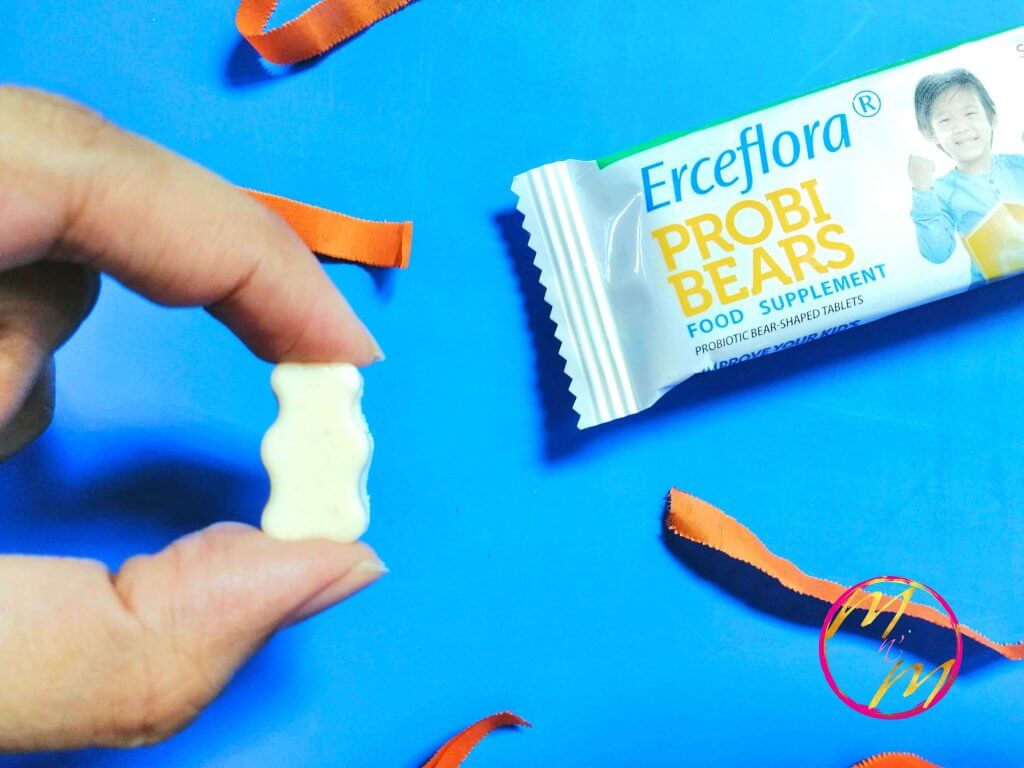 I was only familiar with Erceflora  (Bacillus clausii) which is we take when we have diarrhea.
At first, my daughter was hesitant, but when she tasted Erceflora Probibears, she cheered, "It's yummy, Mommy!"
Here's what we love about Erceflora Probibears: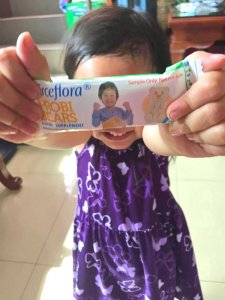 ♥  My little girlie likes its vanilla flavor and bear shape.
♥  It has two strains of good bacteria: Lactobacillus acidophilus and Bifidobacterium lactis. 
♥  Kids 3 years old and up can take it daily.
♥  When I need to store it, I can just place it in the pantry (12 to 12° C)
♥   She hasn't had any stomach issues lately
Lactobacillus acidophilus has been shown to help prevent and reduce diarrhea in children. On the other hand, Bifidobacterium lactis was proven in many studies to ease symptoms of constipation.
Now, I'm much more confident about my daughter's digestive health thanks to Erceflora Probibears!
WHERE TO BUY ERCEFLORA PROBIBEARS
You can get Erceflora Probibears at select Mercury Drug Stores and South Star Drug branches for only P540 per box of 20s.
 How about you? Has your child tried any probiotic supplements?
Enjoyed this post? Please share it!
Let's stay connected!