Do you enjoy shopping online? How bout Shopee-ing?
These days online shopping is really more convenient for us busy moms. You can choose from a lot of brands and compare prices before buying.
Plus, you could read reviews to help you decide on what to go for.  Best of all, no more crowds and long queues. Neat, right?
Well, a close friend of mine has been urging me to set-up a Shopee account since forever. I recently gave in since I've heard really nice things about it.
Shopee is an online customer to customer (C2C) marketplace where people can buy  and sell a wide variety of items from diapers to electronic gadgets. They have brand new and preloved items as well.
You can download Shopee for free on the App Store and Google Play. It's been downloaded over 13 million times here in Southeast Asia!
So, I decided to sign up late last month and was happy that the process is a breeze! Just three easy steps!
 How to Set Up a Shopee Account
Download the Shopee App from the App store or Google Play. You could also register via shopee.com.my on desktop.

Register your Account. It'll ask for a mobile number. You can register with your email address or Facebook account. If you plan to sell and want to hide your personal name, use your email address instead of your Facebook account.

If you'd like to sell items, you need to register as a seller. You can either use your own name or choose a brand name to sell. You cannot change your username as buyer or a seller but you can change your shop's name. Choose the selling tab and start uploading pictures of the items you'd like to sell.
My First Shopee Experience
So, I had my account setup late last month and was too busy to do any shopping until a younger sister of mine wanted a 10-piece beginner brush set by Anne Clutz for her birthday. This was only available on Shopee but it's sold out.
Determined to get my sister an awesome alternative, I then asked my good friend and pro-make up artist Mhaan of Mommy Rockin In Style for some advice on finding an affordable set of soft brushes for P1000 or less.
She actually suggested two brands, Jessup and VDL.
Jessup is a 25 piece bamboo brush set (P1,850) while the VDL Pantone brush set has 14 pcs (P640)
Mhaan also told me to read reviews and buy from one with a Preferred Seller Badge. I followed her advice and got the VDL Pantone brush set from @theblushbunnies.
I think my sister would love this because she's really into makeup. Fourteen brushes for less than P1000, I'm sold!
I was really happy because it was paid COD (cash on delivery), delivered in 3 days and the brush set was well packaged with bubble wrap! For the price, they're amazingly fluffy and soft!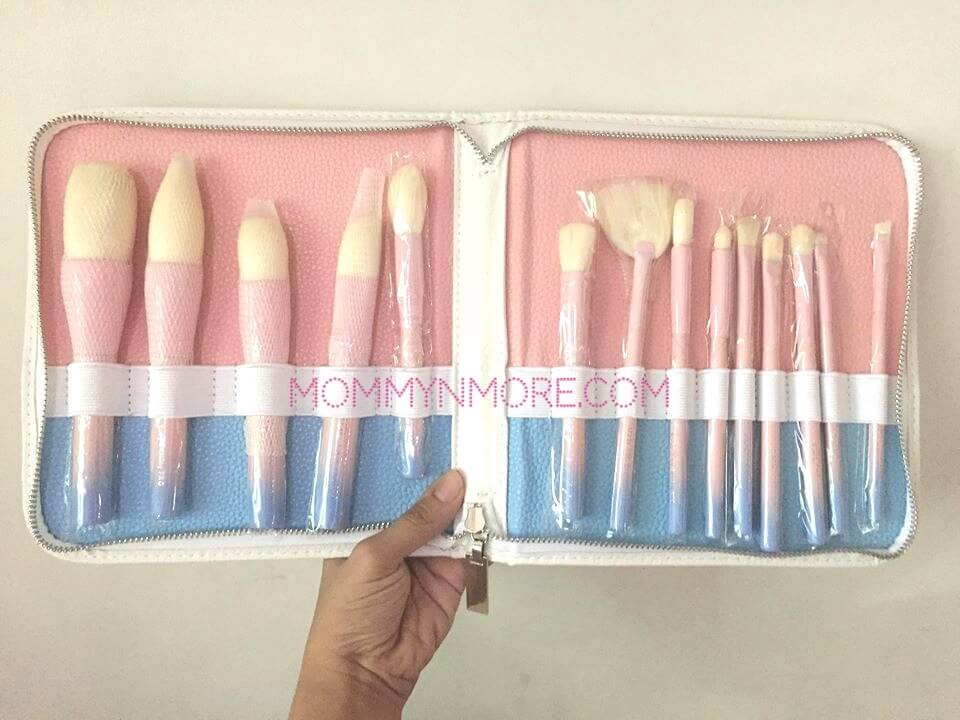 By the way, here's how to buy on Shopee:
Browse through the categories and spot your favorite products. You could also find them through the search bar.

On the product page, you could either tap on the "Chat now" to talk to the seller about product availability or price or "Buy Now" to place an order instantly.
With the "Chat Now" tab, you could also ask for a better deal by tapping on "Make an Offer". If the seller accepts your offer, the item automatically goes to your Shopping Cart.
In your shopping cart, add the items you wish to buy, enter your delivery address, choose your shipping option and "Place Order" to get the goods!  Don't forget to place  valid promo codes, if you have any on the lower portion of the checkout page. 
For the payment, common methods are Cash on Delivery (COD), remittance/ payment centers, over-the-counter ( bank deposit) and bank transfer. Personally, i prefer COD since I don't have to leave the house.
If you're within Metro Manila, expect your order to arrive  in 2 to 5 calendar days while for other parts of the country, you'll receive your goods in 3 to 8 days.  For overseas products, it make take 14 to 25 days. Remember though that this time frame excludes non-working days and public holidays.
Hmmm, I've covered the basics .. now it's time for the juicy part. I like saving a lot more than shopping so every peso saved is a peso earned. You know what I mean. 
That's why I'm spilling the beans right now. I want you to save money but enjoy shopee-ing! Ready? Drumroll please…
How to save money when Shopee-ing:
Use promo codes to get discounts
When you sign up on Shopee, you automatically get a Welcome Code that'll give you a discount on your first purchase. Actually, my welcome code could have gotten me P80 off on the VDL brush set but it totally slipped my mind to use it. Note to self: use the codes!
Be on the lookout for their daily flash deals. 
Everyday, all kinds of items go on sale for a limited time at specific time slots : 12MN, 12NN and 6PM. So when these deals come on, you need to grab your favorite products to save big bucks! Sometimes, they also have these beat-the-clock offers wherein they only offer the discounts for a few hours.
Keep an eye out for items that have the Free Shipping icon 

Usually, for orders worth P250- P499 there's a 30% discount while for a minimum purchase of P500 you get free shipping.
The free shipping applies to the following courier services: LBC/Xpost Integrated, Black Arrow Integrated, Black Arrow Own Packaging, Standard Express NinjaVan Integrated & Zoom Courier.
However,  their free shipping has limits: maximum of
Two (2) checkouts per day.
Four (4) checkouts per week.
Eight (8) checkouts per month.
When the limit is reached, you can continue buying on Shopee but would need to shoulder the shipping fees in succeeding checkouts.
Play online games to get discount vouchers.
Right now, you could win P120 off if you find Pat & Pixie on Shopee's social media accounts on certain dates. Sounds fun, huh?!
Grab the special Official shop codes once a week.
Every Tuesday, according to my friend who's an avid Shopee user,  there is a unique code that can be used in the Shopee Mall. This mall is an in-app space reserved  for Shopee's Official brands and top sellers. 
The items here are 100% authentic with 7 days- return policy.
As for the code, it changes every week and  is valid for the first 500 customers  daily. You can get 30% off or as much as P100 discount! So, if you find yourself needing baby products or even chocolate, check out Shopee mall. The promo code this week is MALLFORYOU. 
Use your birthday month discount.
On your birthday month, you'd be given a  valid for 15 days which is about P100-P150 discount (according to my dear friend).
Tap on the Daily Prize  icon and you just might win discounts.
Everyday, you get 1 token which entitles you to tap on the daily prize once. You  could win shopee coins, discounts and more. More shopee coins and discounts = more savings.
The Daily Prize icon is on the lower right part of your screen.
Today, I won 2 Shopee coins from the Daily Prize! What does that mean for me and my pocket, you ask? Read on.
Pay for stuff with the Shopee coins you've earned from previous purchases. 
You can use these coins to buy more stuff. 
Each Shopee Coin is equivalent to ₱1 discount off any order at Shopee.
1 Shopee Coin = ₱1 off
You could use up to 50 Shopee Coins daily and 150 weekly. You just need to turn on the toggle at the bottom of Shopping Cart page to start spending those well-deserved coins!
Yes, because they have an expiration date. You could only use them until the end of the 2nd month. For example, I currently have 8 Shopee coins . I need to use them before June 30 this year. 
Do you know any tips or tricks I might have missed?  Share them in the comments!
 *Note: All trademarks, service marks, trade names, trade dress, product names and logos appearing in this post are acknowledged and are the property of their respective owners. Featured image is an edited screenshot of Shopee website on a stock photo by Juralmin on pixabay.com. Information is based on shopee.ph.
Enjoyed this post? Subscribe below!
Let's keep in touch!