It's sometimes difficult to find good disposable diapers these days, right?
Some of the awesome brands may be expensive or difficult to find. Other brands leak or sag.
But as moms, we all look for the best for our babies — an affordable brand with good quality.
I'm usually a loyal customer but once in a while, it's nice to try something new.
This post is brought to you by Playful Baby Diapers. All opinions are mine.
Playful Baby Diapers:  Bringing Fun to Kids and Mums
My daughter recently tried  Playful Baby Diapers, a local brand of diaper that has natural high grade and organic Aloe Vera and Vitamin E that help prevent diaper rash.
Playful Baby Diapers are made of  Japanese super absorbent polymer (SAP) sheets and USA made cottony pulp that provide great absorption. The top sheets are cloth-like and with embossed channels so that liquid easily goes to the SAP-pulp.
So,I'd like to share our experience with it.
At first, my daughter was a bit hesitant to try it.  Her whole life she's had only tried three diaper brands.
But in the end she gave in to Playful diaper's cute  and colorful design.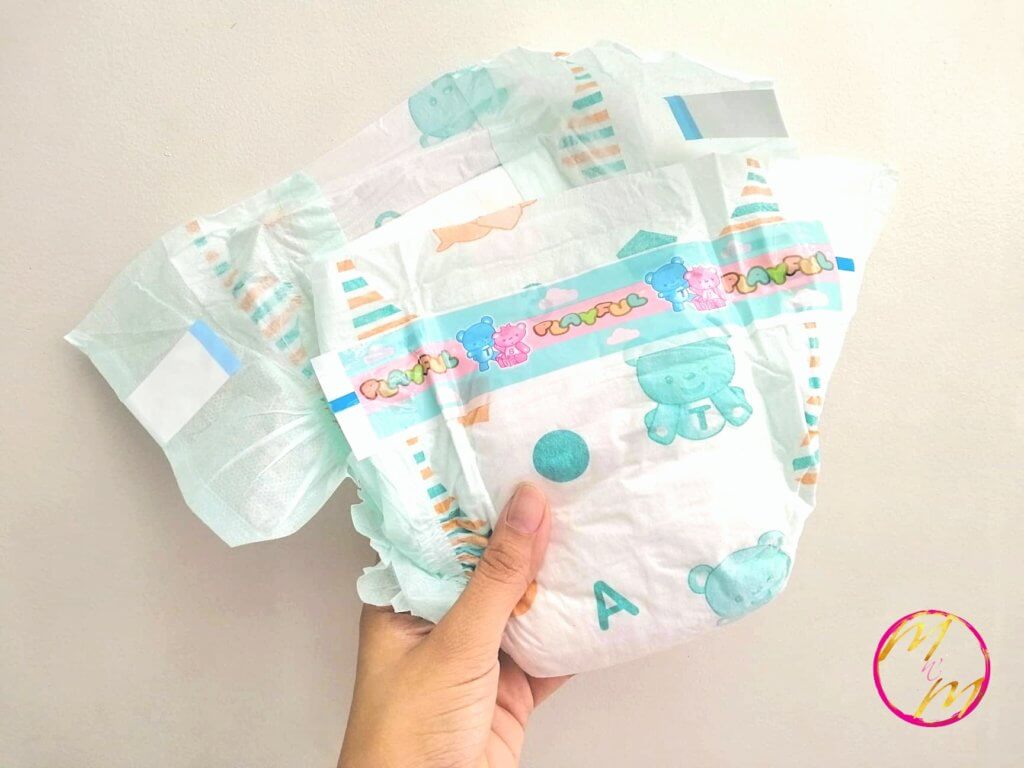 So, we tried it on her for more than week, only at night (8pm to 7am) though. She put on Playful Active cloth-like diapers size XL before bedtime.
Playful Baby Diaper comes in five (5) sizes: Small to Double XL

Here's what we love about it:
It didn't sag even if it was full

Her bottom felt dry even if the diaper was full.

We didn't see any rashes or irritation.

It didn't have that strong pungent smell from ammonia in pee. This means their odor-control system really works!

The tape remained intact throughout the night.

We could refasten the tape multiple times and it was still sticky.
What needs improvement:
Out of the times she tried it, it leaked only once. That's 1 in 10.
But that may be due to the position of the diapers. You know, with so much movement while she sleeps. I may not have fastened it properly.
I think overall, we are satisfied since she wakes up happy and comfy.  Now, she asks me, " Mommy can we use the other one?"
For me, Playful Baby Diapers are worth a try! 
It's much more affordable too. For a pack of 30 pads, it's only P200+ compared to our usual almost P500 / 30+pcs. 
I'm actually thinking of switching now since she's started using the potty.
Where to buy them?
You could get them in Trinoma Landmark, South Star Drugstores, Shopee and Lazada.
PLAYFUL BABY DIAPERS
 Have you tried Playful Baby Diapers? How was your experience? 
Enjoyed this post? Share it please!
Let's keep in touch!