Awwwww….♥
Isn't she just adorable with her bright and colorful Zuri Baby Couture ensemble?
There's really something about baby girls in their fancy headbands and pretty little outfits that melt our mommy hearts.
I'm sure you'll agree that it's so fun and exciting to dress up a baby girl. But sometimes, it's a bit difficult to find the right stuff for her, right?
*This post is brought to you by Zuri Baby Couture. All opinions are mine.
Zuri Baby Couture: The Instant Infant Fashion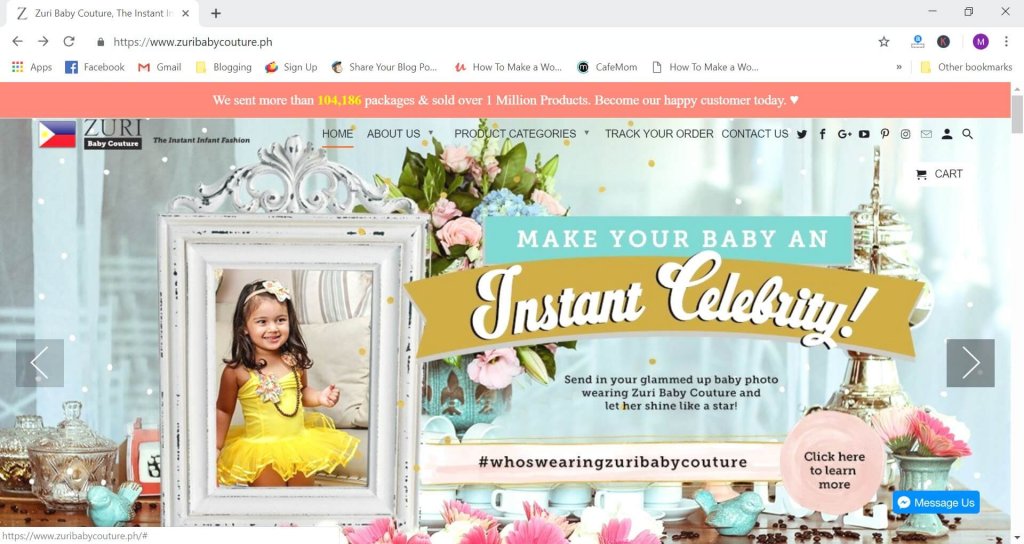 In 2013, Zuri Baby Couture was actually established by a mom who was trying to look for hypoallergenic headbands for her daughter. 
When she couldn't find the ideal one, she then thought of crafting the headband herself. At that time, she was already making intricate accessories made of gemstones at Zuri Wearable Art.
This passionate mom was Ms. Hershey Morgan, a Gemological Institute of America pearl specialist and Zuri Baby Couture's Creative Chief Director. Her talent and enthusiasm helped diversify their collection and grow the brand internationally.
Now, they have branches in the United Kingdom, Indonesia, Malaysia, and France.
Moreover, they have clothing and shoes for baby boys, kids til 7 years old and a skin care line called Skin Revolution.
 Zuri is 'beautiful' in Swahili
And as you'd discover in their clothing and accessories, each one has that exquisite touch of elegance and creativity.
So, I recently browsed through  Zuri Baby Couture Philippines' website and just went gaga over their oh-so-chic dresses, shoes, and accessories. They have the cutest names too!
I was like, "Wow, they're so cute! I wish my daughter was still a baby so she could wear that … and that.. and that too!" 
Just take a look their super cute onesies!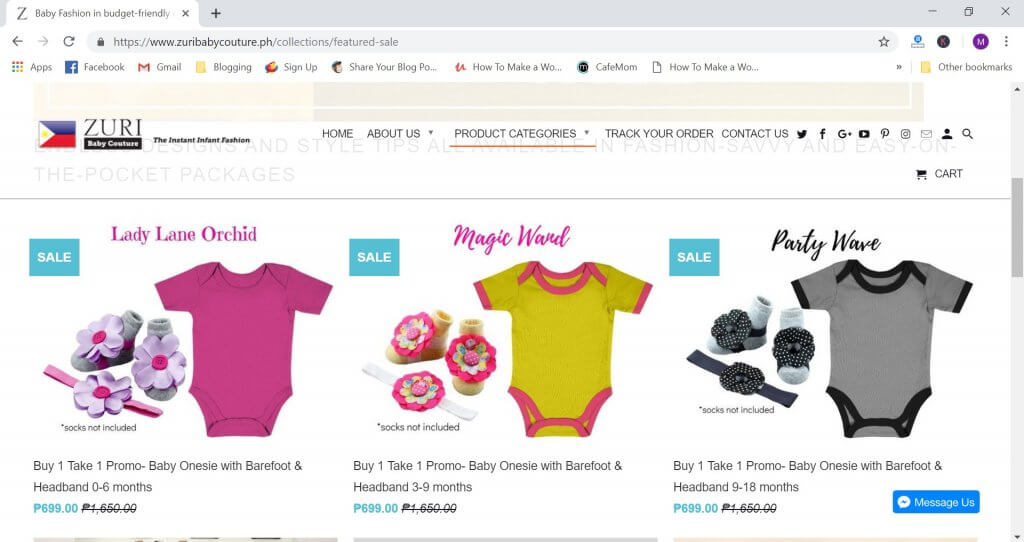 Well, here are seven (7) things I love about Zuri Baby Couture that I'm really excited to share with you! 
♥ 

They offer a wide range of  uniquely stylish clothing and accessories for babies, toddlers, and kids
I'm amazed that their clothes pair perfectly with the shoes and headbands. Let's face it, a lot of us moms want a cohesive look even for our little ones.
You know what I mean?
Matching pairs matter.  Good color combos matter. Being dressed in style matters, even for our little ones.
Plus having these items in sets saves you money, time and energy. Yes, it's definitely instant infant fashion!
♥

Their pieces are handmade with care
Zuri Baby Couture uses high-quality fabric for their dresses, usually 100% cotton. This is ideal for your young one's delicate skin.
Their headbands are made with hypoallergenic soft fabric while their baby shoes (3-9 months)  have padded cushions and with soft cotton lining to ensure your baby's comfy.
Meanwhile,  their shoes for youngsters aged 9 to 18 months have anti-slip soles to make walking for your toddler safer.
♥

It's easy and convenient to order online.
I was thinking of getting my little niece, who's only a few months old, something pretty so I tried to use their website's Quick Shop feature.
And it instantly brings me to a page where I could choose what I wanted.
Besides the Quick Shop feature, it has many payment options from credit cards, bank transfer, Paypal, and even cash on delivery (COD)!
And oh, if you want something really exciting, you can order their Mystery Box with curated fashionable items for your little one.
♥

 It has an engaged online community called Super Mom Global Community
Whether you're a stay at home mom, work at home mom or working mom, it's great to be part of a community. Super Mom Global community is one of the Facebook groups I recently joined.
I must say, it has relevant information about parenting topics plus interesting polls where you can even win prizes.
♥

You can shop using your mobile phone
Yes, you can now shop on the go by downloading the FREE Zuri Baby Couture app from the Google Play Store!
Isn't that great? 
I downloaded their app and find it easy to use. Plus I even saw this Buy 1 Take 1 Promo!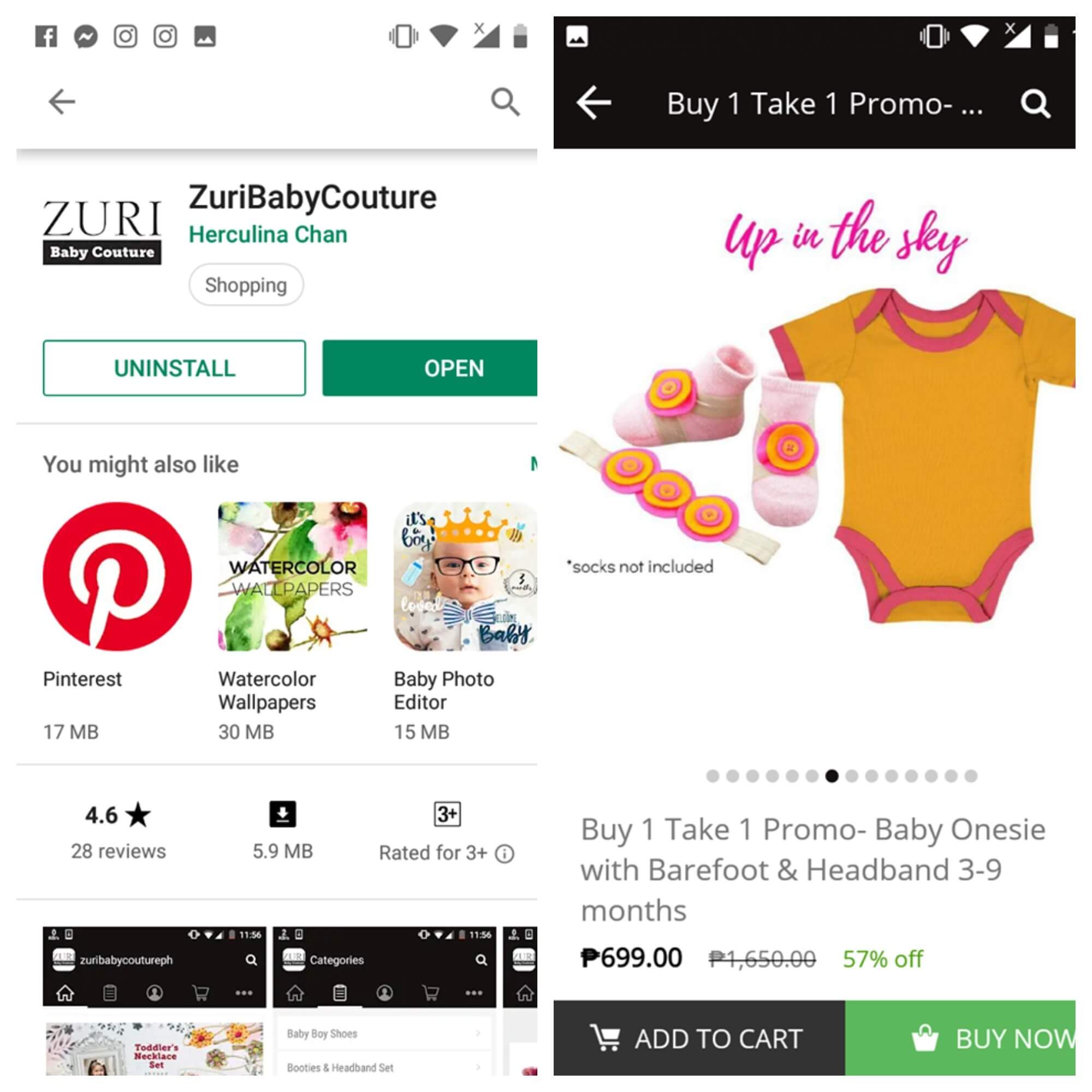 ♥

  They currently have items on sale and  some even come with FREE shipping within the country
Right now, you can enjoy up to 70% off and FREE shipping Zuri Baby Couture Dress Set collection!
♥

 You can be a ZuriVIP
Want to be updated about Zuri Baby Couture's latest sale and exclusive promos?
Just put in your details here, subscribe, and that's it, you're a ZURIVIP! 
You'll also get 10% OFF on your purchase! 
ZURI BABY COUTURE GIVEAWAY
I'm sure you're excited to know about what Zuri Baby Couture has in store for you. Want to have these vibrant items for your little one?
Well, our generous friends are giving away P1,000 gift vouchers to three (3) fortunate Mommy N' More readers!
Two (2) winners will be from Facebook and (1) winner from Instagram! I'll soon post the easy mechanics on Mommy N' More's Facebook page and Instagram account! 
For now, make sure you're a ZURIVIP by subscribing here.
And follow Zuri Baby Couture on their social media accounts below! Check them out to know #whoswearingzuribabycouture!
Facebook | Instagram | Twitter
Have you visited Zuri Baby Couture's website? Which ones are your faves?
*Images courtesy of Zuri Baby Couture
Enjoyed this post? Please share it!
Let's stay connected!