These days, having a baby is really expensive. Even before your baby is born, the expenses start piling up. You need to go for checkups and have routine tests done to make sure your baby is doing well. You also need to prepare for the actual birth and taking care of your baby. 
So, to make sure you don't run on empty — financially speaking, I've made a quick list that's based mostly on my personal experiences to help you save a ton of money!
Ready to save big bucks? Read on!
Buy multipurpose mommy wear
By this I mean get  quality maternity wear that either double as breastfeeding outfits or still can be used when you're not pregnant anymore. In my case, I bought dresses that hug and stretch to fit my curves — with a baby bump and without one. It's great because I'm still able to use them today.
Connect with other moms/parents
I think it's a great idea to find mommy/ parenting groups in your neighborhood or even online.
Actually, I'm a member of several mom communities: Breastfeeding Pinays, Glam-o-Mamas, Millennial Moms Ph, Healthy Baby Food Ideas and Filipina Homebased Moms.These groups can give valuable information not only about childcare, affordable mommy and baby products but even work opportunities.
As for parenting apps, ParentTown is a must-have for moms, dads and parents-to-be. You can ask questions from other parents about your concerns and even ask for recommendations.
Breastfeed
This is hands down one of most effective ways to save money with a baby. The cost is ZERO while using formula would cost an average of P4000/month. This was in 2014.  Imagine how much you'd save for breastfeeding for a year today!
I actually breastfed for almost 3 years so we saved roughly P 136,000. To be honest by day 3 I was ready to give up, but somehow, with a lot of help, I managed to breastfeed for 34 months.
Glammed up breastfeeding for my sister in law's wedding! Forgot my cover so used a cardigan instead!
By the way, did you know? Every year of breastfeeding reduces your risk of breast cancer by 4.3%! Research also shows that it can also lower the risks of having ovarian cancer, type 2 diabetes, rheumatoid arthritis and cardiovascular disease.
Buy white or gender neutral clothes/ accessories
You know, as a first time mom, I wasn't really level-headed when it came to baby stuff. Blame it on the hormones but the moment I knew we we're having a girl, I was suddenly drawn to everything pink! We bought clothes that were soon outgrown and stuff we really didn't need. 
Next time around, I'd buy more gender neutral ones like orange, green or even red? And if I'm too confused, just white.
One size larger
Tempted to buy clothes in newborn size? I think it's better to get a few 0-3 pieces. Babies really grow big quickly so it's a must to have clothes that are one or  even two sizes larger.
Ask for Hand me downs
I actually asked my sister in law for hand me downs. She had a daughter a year before I did so she had a lot of girly clothes. I got some onesies and tops!
You know what, I recently made a pact with a close friend of mine who has a son. If her baby number 2 would be a girl, she could have some of my daughter's clothes and vice versa.  You could  also do this clothes/ stuff exchange with your best friends, sisters or even cousins.  You could probably even ask for their maternity clothes too!
Hospital Packages
A lot of hospitals  in the metro offer maternity packages for both normal and c-sections. It's better to know what the inclusions are before hand so you could find out what fits your budget. You could also check out hospitals that your OBGyne is affiliated with to assess your options
Use cloth instead of disposables
If you possibly could, use cloth diapers and cloth wipes. I tried cloth diapering when my daughter was almost a year old but regret not going full on. As for wiping messes, like spitups and food, the ever reliable lampin ( small piece of white cloth ), is a cheaper  and more eco-friendly alternative to disposable wipes. I'm still trying to make using a lampin a habit though. I could have saved a lot!
Buy pre-loved baby gear and toys
While it maybe tempting to buy stuff from  mommy and baby boutiques, I think you can get more bang for your buck with second hand items. In our case, we bought several secondhand baby items like 5 in 1 high chair, stroller and walker/tricycle from WiseMomsPh. They are still in great condition and my little girlie still loves riding her tricycle.
When she got older, we also got her a pre-loved kitchen set.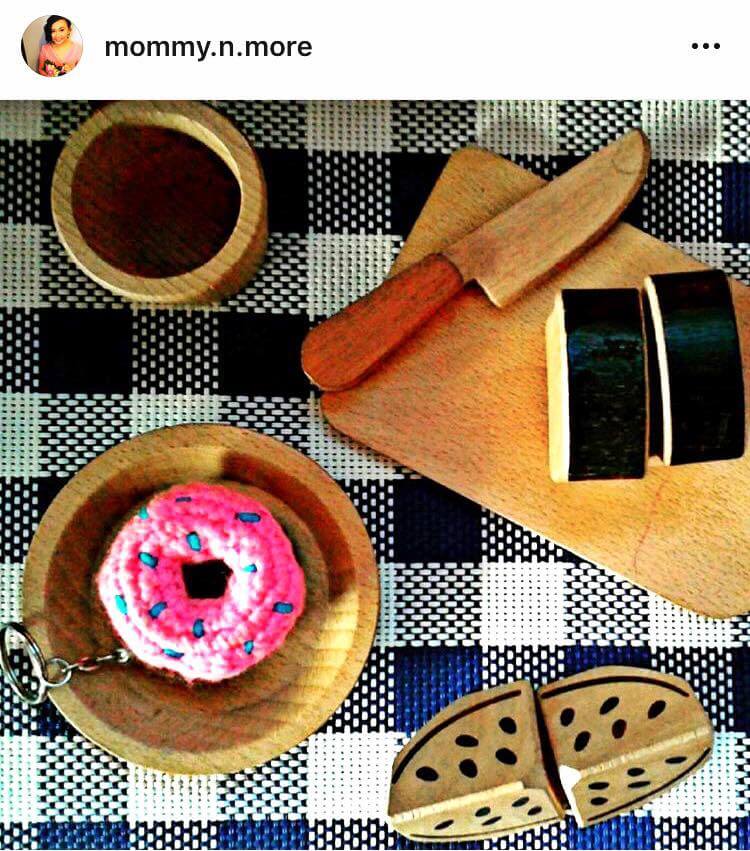 Make a shopping list and get stuff in bulk
Yes, you'd need a lot of diapers  and disposable wipes  (or lampin ) to survive the long sleepless nights with your baby. So better to buy in bulk. You'll save a lot of money and time this way. You could also buy big bottles of baby shampoo or baby wash while you're at it.
Think long-term
Before you rush to get your shopping done in time for the baby, always think of what happens to the items after she turns a year old. Think about storage reusability or upcycling. Make your nursery transitional. Get furniture that would grow as your child grows. 
For diaper bags, find one that doesn't look like a diaper bag. This way you could use it as an everyday bag or overnight bag. 
Have good insurance set
It's great to be prepared so make sure you have insurance. In my case, I had PhilHealth and SSS (Social Security System). By the way, if you're an SSS member, you or your employer has to submit a maternity notification form early on with proof of pregnancy.
Put extra stuff in the car
You may never know when you may need an extra set of diapers or a pack of wipes so keep some in your car. It's also a good idea to have a diaper mat and some extra clothes there.
Make your own baby food
When your baby is ready to take in solid food (around 6 months for most), it's a lot cheaper and healthier to make your own baby food. When my daughter was around that age, I steamed or boiled some veggies and placed them in an ice tray.
For more nutritious recipes and tips, I recommend becoming a member of  Healthy Baby Food Ideas Philippines. This group has a lot of easy but healthy recipes for our little ones. Trust me, the key is in variety — taste, texture and appearance. My little girlie has been a bit picky since we often offered her favorite foods.
Two in One Celebrations
You could have your little one baptized on his or her first birthday. Or maybe have same-month celebrants in your family have birthdays together. Two in one celebrations will certainly help save for your child's college fund.
Anyway, I hope my list will help us all to be more money-wise when it comes to our baby. Besides, we don't need expensive stuff to show our little ones our love and affection. Sleepless nights and a lot of patience will do.
How about you, what did you do to avoid breaking the bank when you were expecting?
Enjoyed this post? Subscribe below!
Let's keep in touch!