When was the last time you were in Divi?
Well, me , I honestly can't remember. But I enjoy going to Divisoria with friends and our kids on weekdays when I moved here in Manila. On weekends and holidays though, it's kinda hectic trying to walk through crowds of people  especially with  young kids in tow. On top of that, my little girlie loves being carried. Even with the hassles though, it's exciting to see what this  haven for thrift shoppers like myself has in store. It seems to never run out of novelty items and lower-than-low priced goodies. 
Divisoria is one place I'm never afraid to ask half the price, confident I'd find it in another shop if the seller doesn't give in. I mean I wouldn't call myself an Ilocana now would I if didn't know how to haggle for the best price. Besides,  there's always another ongoing sale somewhere in Divi. 
We usually go there to shop for party needs and Christmas gifts. Sometimes, I'd also buy some craft items there like yarn and hooks. A close friend of mine got her wedding souvenirs somewhere in Tabora Street. As for me, I think the last time I had a major Divi splurge was for my little girlie's owl-themed first birthday.We got pastel paper lanterns, colorful loot bags and lots of little trinkets as prizes for the games.
Yes, it's been a while since I had any major Divi shopping done. But recently,  I learned about an awesome Divisoria shop called Anding's Toys & Flowers Inc (ATFI) that's tempting me to do my Christmas shopping in May. Well, I guess it's never too early to prepare for the holidays! In just two months, we're halfway through the year. Really fast, right?
Anyway, let me share with you five (5) things about Anding's Toys & Flowers Inc I'm really excited about!
This post is brought to you by Anding's Toys &  Flowers Inc. All opinions are mine. All trademarks, service marks, trade names, trade dress, product names and logos appearing in this post are acknowledged and are the property of their respective owners.
Anding's Toys & Flowers Inc. 
This Divisoria shop has been making parties and events more fun since 1972. Interestingly, the other week I learned that my mother in law actually bought toys for her son (my husband) in this very shop! Now, they have three branches and will be opening one more next month!
So, if like me, you're getting more curious about what ATFI has to offer, read on!
Variety 
They have more than 10,000 kinds of toys in their store– that's an aaa-mazing variety of toys! Your kids ( I should say our kids) would definitely go gaga over everything they have!
They have all sorts, shapes, and sizes of toys for every age – pretend play toys, construction toys , craft kits, summer toys and educational among others.  They also have amusing musical instruments and costumes for kids. Besides these, lovely faux flower arrangements are also available.
Image credit: Photos are from Anding's Toys and Flowers Inc's official Facebook page. Republished with permission. Featured image is edited photo of their store with AFTI logo overlay.
Price range
Another thing that's great about ATFI is that their toys for sale are priced from Php 10  to  Php 15,000. This means you can choose whichever toys fit your budget!
Chemically Tested Toys
Anding's Toys and Flowers Inc. has its own local manufacturing plant, and they have a line of local toys available in the store and online.
If you look at the packaging of the local toys, you may see  it labeled as "New Anding's Trading and Manufacturing". It's the manufacturing leg of ATFI. This means that toy has been made, tested, and packaged locally.
All local AFTI toys are subjected to complete chemical testing, especially Lead-testing and have passed before being displayed; so parents like us won't stress about harmful components in our kids' toys.
ATFI also imports other kinds of toys, all of which have undergone EN71 testing, which is a 13-part international safety test for toys, and all other required chemical testing.
Speaking of toys, my little girlie has really been into wooden toys these days so I was really thrilled that AFTI has puzzles, blocks and towers. While we were waiting for her checkup the other day, her little hands were busy trying to figure out where to place those tubby toes in her cute puzzle. She was really excited and proud when she finished it!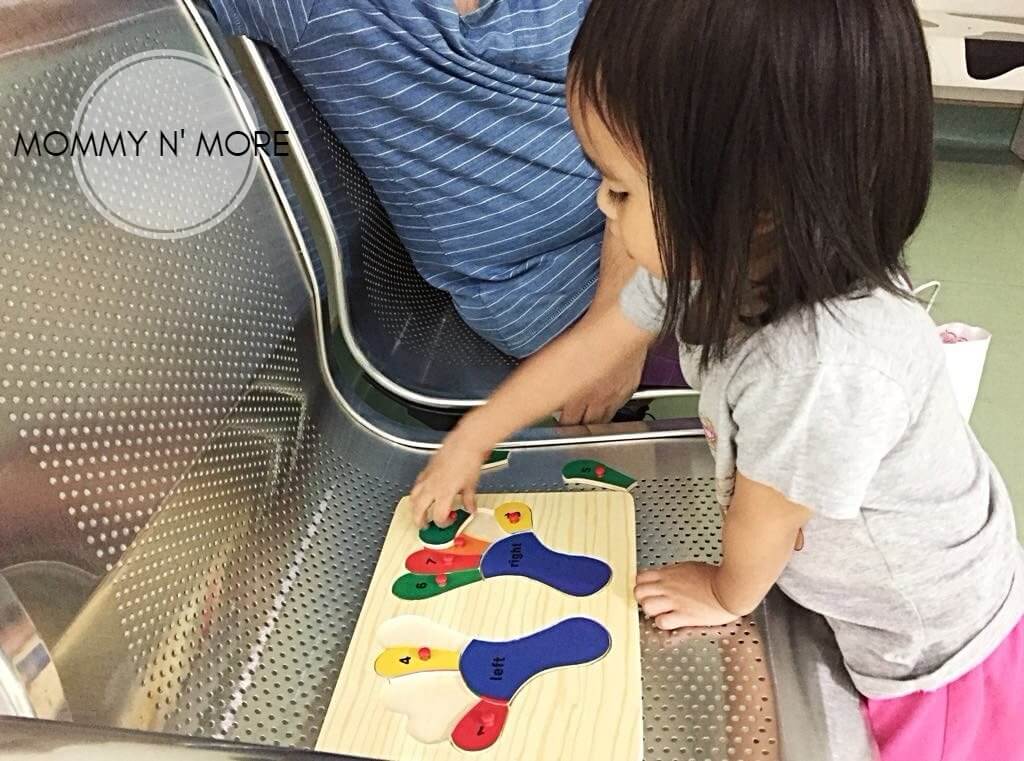 Party Needs
Have an upcoming party? Get exciting kiddie costumes, lootbags, balloons, pumps, streamers and prizes to make your next party unforgettable! They also have spooky stuff for Halloween and holiday cheer for Christmas!
Anding's Toys & Flowers Inc is now ONLINE!
Yes, mommies and daddies, ladies and gentlemen, this well-loved Divisoria shop now has an official Shopee store and Facebook page.  You can now buy all these cool toys online! They offer nationwide delivery so I'm sure it'll be more convenient for you to order your kid's toys rather than risk being swept astray by the sea of people.
A few days ago, I tried visiting their Shopee account @official.andingstoys and  I really enjoyed spending quite a lot of time just marveling at how many toys they have.  Window shopee-ing online can be so relaxing, right? Seriously, you need to check their store out!
Now before I end this post, I'd like to share some of my best tips for your next Divi shopping adventure:
Know where and when to go. As I mentioned better go to Divi on weekdays in the morning when the crowd is still thin. You can also use this simple guide to know where to go if you're trying to find something in particular:   Decorative accessories : Tabora Street ; Fabric and upholstery : Ylaya Street ;Flowers and hardware: Juan Luna towards Claro M. Recto ;Baking and cookware : Sto. Cristo Street
Wear ultra comfy clothes and footwear. Closed and comfy ones would be great because it can rain and also get really dusty.
Bring eco-bags. 'Coz you'll probably do a lot of shopping!
Dress down. Divi is no place to be flashy. Don't bring expensive cellphones or wear jewelry.
Haggle and haggle some more but know when to move on. Haggling should be a win-win wherein you're convinced the price is yet for the value and the vendor's also happy to give it to you. 
Excited to shop for summer toys?!! Head over to ATFI accounts online!
Enjoyed this post? Subscribe below!
Let's keep in touch!