Summer's in full swing!
You're probably hitting the beach or the pool with our kids to cool off.
Now if you're a parent, you'd be checking off a list of essentials which includes stuff like sunblock, a pile of extra clothes, lots of snacks, and anything to avoid meltdowns.
But while these are all great, our top priority needs to water safety for ourselves and our kids.
Whether you're off to the beach or taking a dip in the pool with your kids, here  are safety tips we need to remember:
*Note: These safety tips are for informational purposes only. Please consult water safety experts or medical professionals for any doubts or concerns.
Never leave kids unattended near water-EVER.
We need to be vigilant because you'll be shocked at how quickly having toes in the water can turn into a  rescue situation.
It can take just seconds so there should always be an adult nearby, preferably designated watchers.  That way, everybody knows who are in charge instead of assuming somebody would watch over their kids.
Ignore your phone
It might be tempting to check your Facebook but you need to put your phone down. All notifications can wait.
You could check your email as soon as you're in the car. But for now, your kids need all of your attention.
When at the beach, recognize a riptide and avoid it.
I've never seen a riptide nor have I've been in one. But apparently, they're very dangerous spots at the beach, and many people drown being dragged by a riptide into deep water.
If there are lifeguards around, you could ask them where is the safest area for you and your kids before letting them run off into the water. You can see what a riptide looks like in this Youtube video by BBC.
Have young kids or inexperienced swimmers wear life jackets especially in open water
Make sure they are the right size and if possible, Coast Guard approved. While floaties like swim vests and arm inflatable look like fun, they're not dependable when it comes to keeping our kids safe.
Don't rely on floaties. If in doubt, stay in the shallow end.
Kids younger than five years old must have an adult at arm's reach when they are in or around water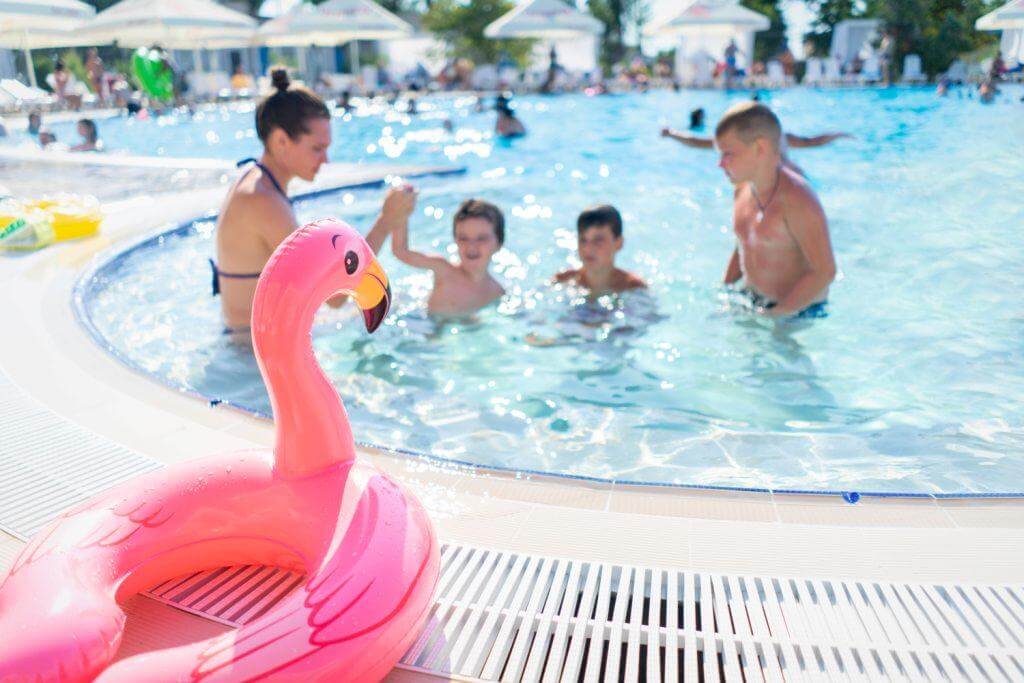 Young kids are curious and impulsive, so an adult needs to be close in case he decides to dip his head into the water and panics. If the adult doesn't know how to swim, better be in shallow water with the kids.
Don't let your kids swim in canals, rivers or fast-moving bodies of water
These bodies of water can be treacherous even with experienced swimmers because of the strong current.
Keep rescue equipment such as a shepherds hook and portable phone with emergency numbers on speed dial nearby
A shepherd's hook is a long pole with a hook or crook that's ideal for safe poolside or beachfront rescue.  
Teach the kids to follow these 5 water safety rules
No pushing  or pulling people in the water

No running near the pool area no diving in the shallow end of the pool

No swimming without adult supervision 

Have a swim buddy
Sometimes, rowdy behavior in or near the water can get dangerous, so it's best if your kids recognize things they shouldn't do for everyone to be safe.
Know the signs and symptoms of dry drowning, secondary drowning and learn CPR (Cardiopulmonary Resuscitation)
Keeping kids safe near and in the water is one thing, knowing the signs of danger when they're out of it is another.Dry drowning and secondary drowning are complications can be observed days after being in the water. Although they are rare, it's still worth knowing their signs and symptoms.
Dry drowning is when water reaches the vocal cords and makes it difficult to breathe. On the other hand, secondary drowning is when water gets into the lungs and irritates it, causing edema. 
Signs and Symptoms:
coughing

trouble breathing

chest pain

feeling extremely tired
If you observe any of these in your kids, get medical help.
To learn more about CPR, the American Heart Association and its affiliated centers all over offer specialized training.

Know any other water safety tips? 
Enjoyed this post? Subscribe below!
Let's keep in touch!