With the scorching heat here in the metro, everyone's looking for cool places to hangout besides the mall. Well, being in the mall with restless kids is great but let's face it, it can get pretty expensive with the temptation of shopping and eating out.. Well, being an Ilocana and my mom's daughter, I'm not so keen on squandering good money for something one could get for a lot less.  Good thing there are a number of beautiful parks and gardens around that your family could visit without spending anything for the entrance! (based on my research)
Just make sure you head out that the kids are wearing light and comfy clothes and you have a lot of  cold water to keep everyone hydrated.
Ready for a stroll? Here are 9 beautiful green havens to visit with your little ones this summer:
Quezon Memorial Circle
Address: Elliptical Rd, Diliman, Quezon City, Metro Manila
Open 24 hours everyday
*Free entrance
This spacious park inside inside an ellipse holds a lot of memories for me growing up. My grandparents used to bring us here and we'd be thrilled to go biking or just running around. I'm glad these days I could still bring my family to enjoy the places and activities here such as: askating rink, Circle of Fun, an orchidarium, Quezon Memorial site, forested-picnic ground areas, anmphi theatre, bike rentals , restaurants and a mass after the Sunday exercise session.
For some downtime, it's best to go here on weekdays about 4pm or so. With its sprawling big trees you can find yourself watching clouds or just enjoying the moment. 
A few weeks ago, I actually joined Hortikultura, an annual plants and arts festival at QMC . It was really fun to see the variety of plants and landscapes showcased.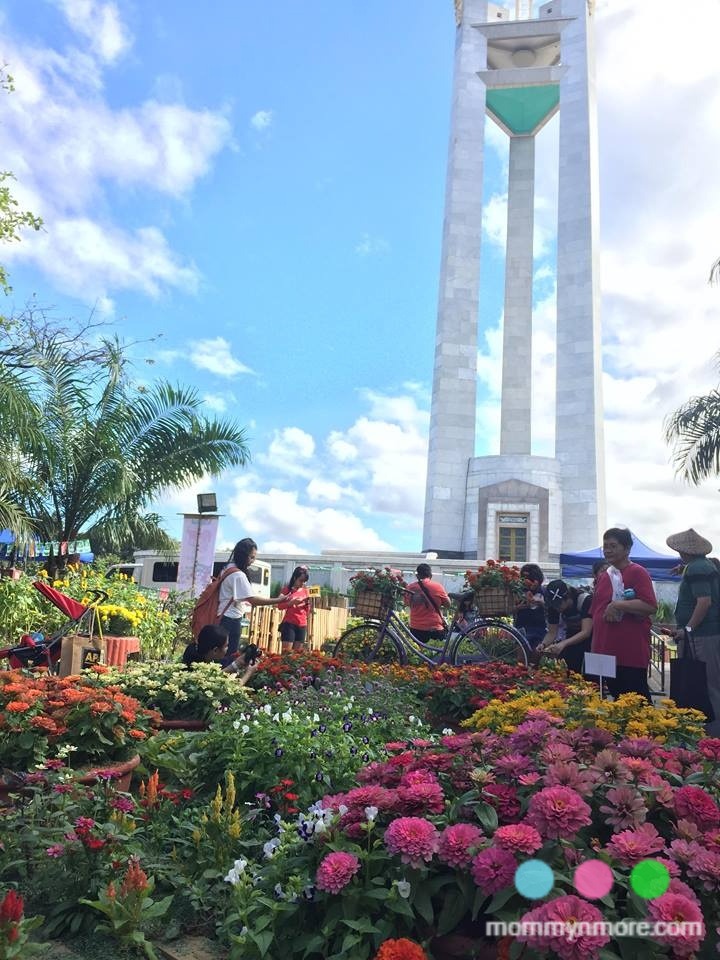 Paco Park
Address: San Marcelino and General Luna Sts., Paco, Manila
Open from 7:00 AM to 5 PM daily
*Entrance fee: P10 per person
This recreational garden was once a a municipal cemetery. But these days, it's become a park, concert venue and even a wedding venue. So if you're looking for a hidden green escape, you can check out this park that also features a small chapel at the center. Masses are also held at the chapel on Sundays. It's quite popular with locals on weekends.
Ayala Triangle Gardens
Address: Paseo De Roxas St Cor Makati Ave Cor Ayala Ave, Makati
Open from 6:00 AM to 10:00 PM daily
*Free entrance
I've only been here once but I really wish it was near our place. It's truly a relaxing green haven in the bustling business district of Makati. For some reason, I felt like I was in a prestigious university somewhere abroad. It's amazing how this 20,000 square meters landscape is graced by over a hundred trees with a diverse mix including rain trees, golden palms, fire trees, kamuning and podo cerpus. I'm sure your kids would love just to run or stroll around. Good restaurants around and free wifi are big bonuses for park goers.
Washington Sycip Park
Address: Legaspi St., Legaspi Village, Makati, 1229 Metro Manila
Open from 5:00 AM to 10:00 PM everyday
*Free entrance
This is another pretty and quiet place in the lively Makati business district.  It has gazebos and benches where people can relax and unwind. Perhaps one of its biggest draws is the Sunday market. No wonder it well loved by locals and visitors alike. By the way, it is a no pet, no-smoking zone.
Ninoy Aquino Parks and Wildlife Center
Address: Elliptical Road, Diliman, Quezon City, Metro Manila
Open from 7:00 AM to 5:00 PM daily
Entrance: P8 for adults;  5 Php for students/children
Parking Fee: 25 Php for busses; 15 Php  for cars; 8 Php for tricycles/motorcycles
If you have energetic kids who love to run and wander around, I'm positive they'd enjoy this park and rescue center.  Dubbed "Nature Park in the City's Heart" ,this 22.7 protected area offers a number of activities for the family. Besides going for a walk, families can enjoy having picnics, playing sports or checking out the many animals at the rescue center. It's not that well maintained but still great considering it's on the cheap.
It also has a man-made lagoon that serves as habitat to a number of fish species like tilapia, catfish and snakehead, among others.
Greenbelt Park
Address: Greenbelt Park Walkways, Makati
*Free entrance
This is  nice well maintained landscaped area between Greenbelt 3, 4 and 5 malls.  Aside from the greenery, there are several coffee shops and restaurants around. Families can just sit on the benches , stroll around or even hear mass at the Catholic chapel which is right at the middle. 
University of the Philippines Academic Oval
Address: Velasquez Street, Diliman, Quezon City, Metro Manila
*Free entrance
Open 24 hours
This elliptical campus road is a popular landmark with its canopy of majestic century old acacia trees. You can probably find a lot of people here going for a walk, a jog or riding bikes  on Sundays since cars aren't allowed. After breaking a sweat, you could all take a break to buy ice cream, taho, or other street food from the friendly vendors.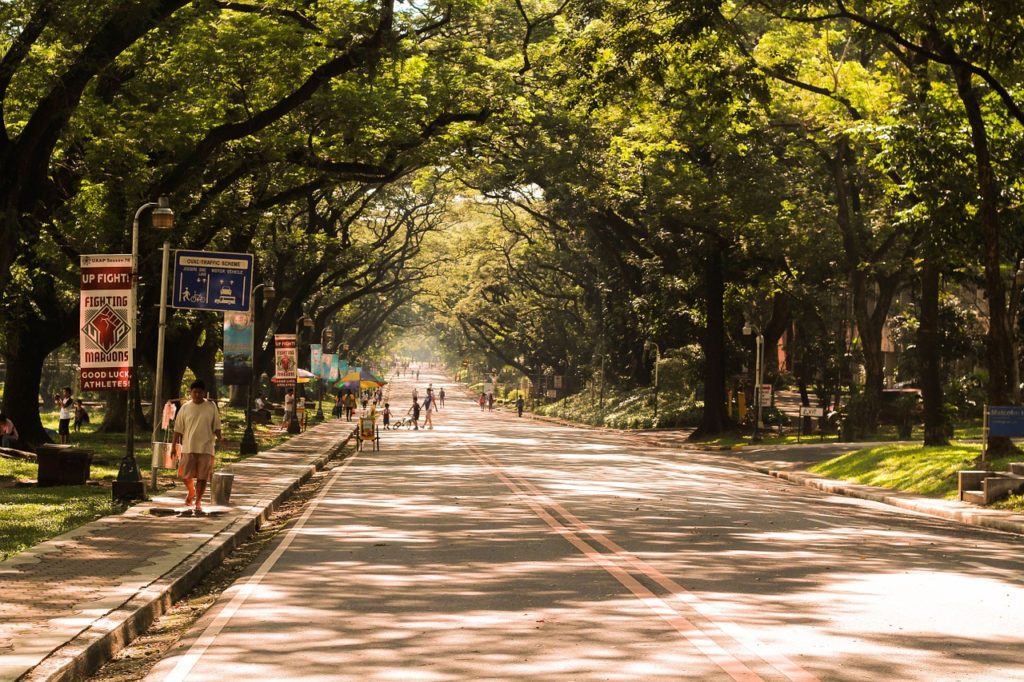 Kasalikasan Garden
Address: Next to De Jesus Oval  Park, Taguig
*Free entrance
Open 24 hours
This beautiful garden with  age old trees and a natural rock amphitheater is a play on  the words, " Kasali Ka sa Kalikasan " which roughly translates  as "You are Part of Nature". This secluded spot in Bonifacio Global City is a nice place to unwind, go for a walk with your dogs, or have your kids play.
River Park Festival Supermall
Address: Festival Mall Alabang, Muntinlupa City
*Free entrance
Opens 10 AM to 9PM daily
 For people living in the South, this 2,300-sqm park with jogging trails, a flowing river, and green spaces can be the perfect spot for some  downtime with the kids. Many recommend you go there in the evening for the fountain and bright lights.
There you have it! I hope you got some ideas on relaxing places to go with your kids  this summer! 
I'd love to know if you've been to any of these! Share your experiences in the comments!
Enjoyed this post? Subscribe below!
Let's keep in touch!