Just living is not enough.. one must have sunshine, freedom and a little flower. ~ Hans Christian Andersen
So true,  right?  There's something special about  surrounded by plants and flowers. I don't know about you but they make me feel  relaxed. Even though I used to dread memorizing their scientific names back in college, I enjoyed just being in our university's botanical garden and taking pictures with the greenery. As a mom, I feel that it's important for my daughter to be closer to nature even if we live in the city.
Luckily, last weekend I was able to join a walking tour at by Mr. Rence Chan, a plant enthusiast and blogger at Walk With Chan. This is one of the activities at this year's Hortikultura Plants and Arts Festival, an ongoing event  organized by the Philippine Horticultural Society, a non-profit non-stock organization of plant lovers passionate about sharing their enthusiasm for plants. Together with other bloggers and media people, we were able to see  a wide variety of  endemic, indigenous and hybrid plants from the Philippines. I'll be flooding you with pictures of them a little later on.
For now, I'm inviting you to visit the Quezon Memorial Circle this weekend to experience some of the country's most beautiful and diverse flora. Is the P50 admission fee  (with discounts for senior citizens, students and PWDS) worth it? Yes, definitely. I'll tell you why.
The beautiful and vibrant show gardens will delight your senses
Imagine,you'd get to  wander around 6 hectares of flower gardens, terrariums, bonsais, tropical landscaping  and commercial trade shows! There are actually four show gardens:  Hardin ng mga Bulaklak (flower garden), the Tropical Garden, Runnex Elevated Garden and the Rock Garden.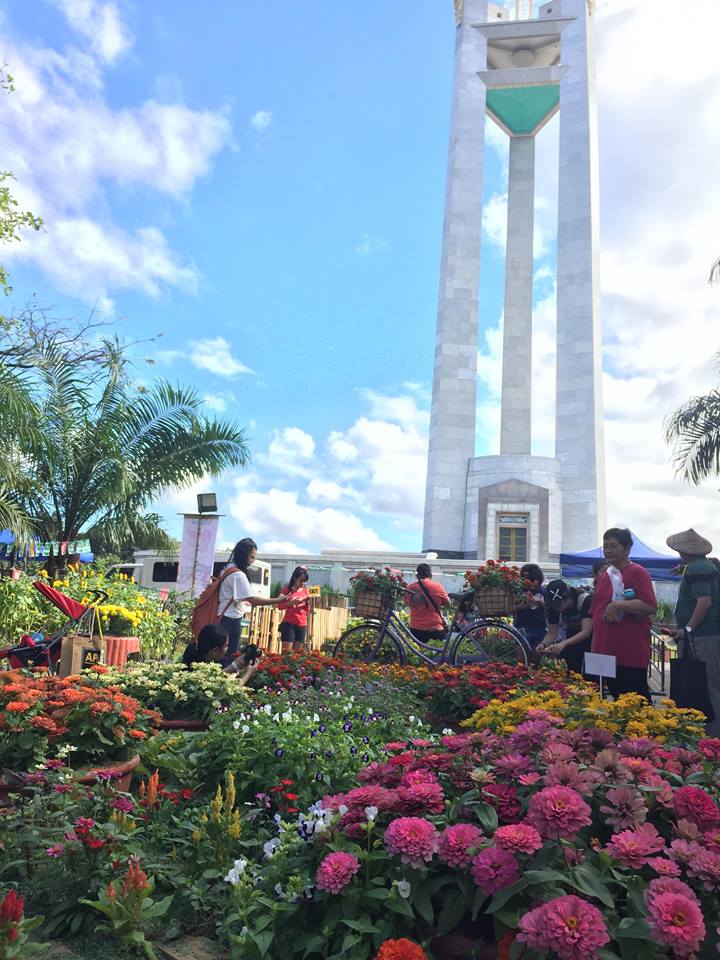 You will learn from interesting daily lectures and workshops
This weekend there are lectures on alternative medicine, starting a horticulture business, basic bonsai, among others. Just see the pic below for the schedule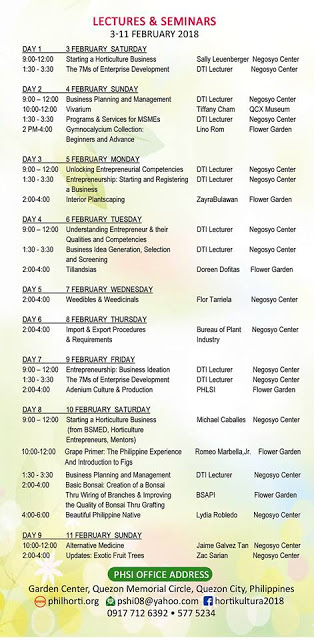 You'd probably grow a green thumb
Yes, I'm sure of it, especially because they have amazing and eco-friendly urban garden setups.  Even if you have limited space, you could grow some herbs or vegetables. I was inspired by their vertical gardens and intrigued by hydroponics. With hydroponics, you don't need soil to grow plants. Instead, you need mineral nutrient solutions. Isn't it cool?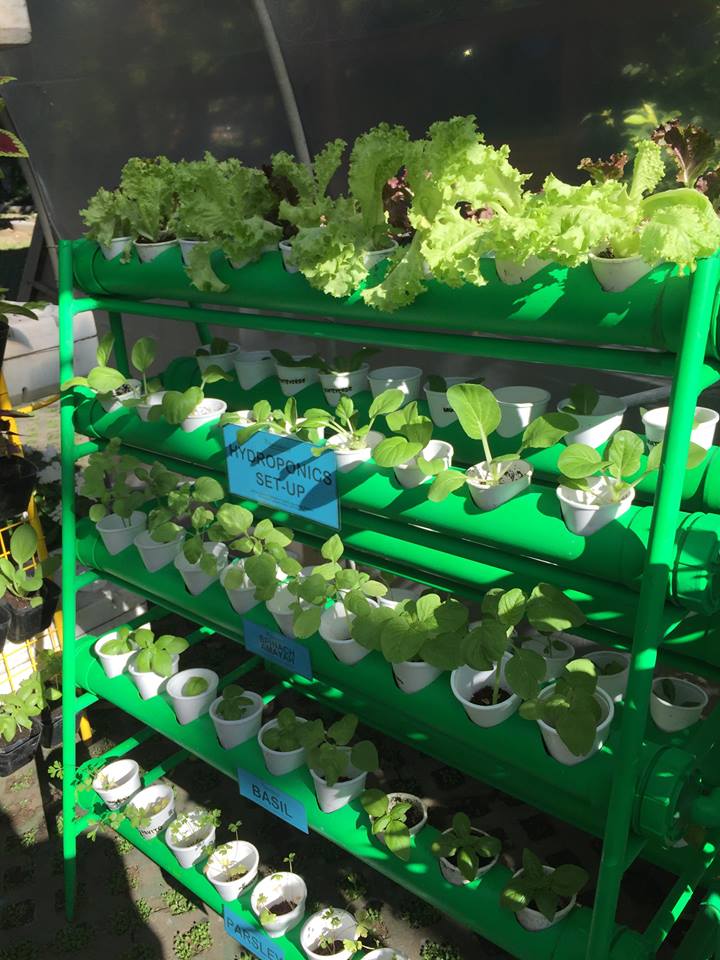 Plus, you could also start a succulent kokedama at home.  There are a number of stalls that sell different varieties of cacti. Just remember they need plenty of sunshine and do relatively well in clay or plastic pots with holes rather than ornamental pots.
You'll see a two-headed turtle, be amazed at growing plants in bottles and taste some juicy mulberry
Two words: Super awesome!

You can get some exercise and useful information about plants
There's gonna be a FREE guided tree walk today at  2pm initiated by the Philippine Native Plants Conservation Society. 
You will feel one with nature and appreciate floral art more.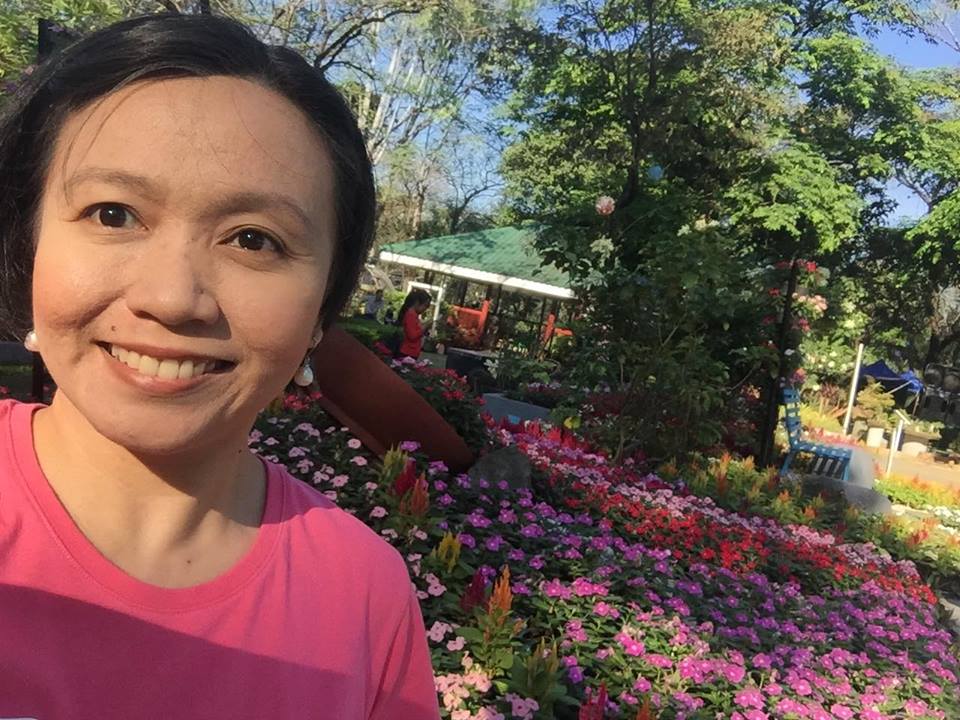 It'll make you feel better about life.
It's been scientifically proven that being surrounded by plants brightens our moods, lessens anxiety and boosts brain performance. Much more than that, gardening has been shown to be good for our over-all health. Life can be pretty overwhelming sometimes.In fact, for those suffering from depression and anxiety, gardening is a common intervention. 
Philippine Horticultural  Society
Enjoyed this post? Subscribe below!
Let's keep in touch!