I love strawberry cake and March! Strawberry cake, do you need to ask why? As for March, I gave birth and started this blog sometime this month three years ago, so it is special to me. 
Speaking of March, it went by fast didn't it?
Besides my daughter's birthday, March makes me think of two things: graduation and summer vacation. I get a bit nostalgic though when I reminisce about the former even if it happened more than a decade ago. It was a big day for me back then.
Looking back, I remember I was with probably more than a thousand graduates in a huge hall feeling excited, sad and everything in between. It was bittersweet.
I knew life was never going to be the same, but I was thankful for all the experiences I had. I've met some of the best people back in college and starting a new chapter left me with mixed emotions.
A little later that day, I recall my aunt handing me a graduation card. I lived with her family for most of my college years, and I could feel how excited and proud she was of me. I could feel it in the words.
There is something really special about cards. I just might be feeling sentimental because I'm a person who feels more comfortable expressing myself through the written word, but I really love how open and honest a card feels.
You can pour your heart out in a card and not feel embarrassed doing so. And unlike words said which may be forgotten in a day and a half, those heartfelt words stay with you and remind you that people care about you, your big moments and your happiness.
Well, my daughter is still a toddler, but I can't wait to pour my heart out in a card when she graduates from college or even just move up a grade in preschool. Getting a bit emotional here.
This feature is brought to you by Basic Invite. All opinions are mine. I only feature brands I believe in.
Basic Invite: Share Your Life's Big Moments with Truly Customizable Cards
I recently got introduced to Basic Invite, a website that lets you create stunning personalized cards and invitations for special occasions like your niece's graduation, your daughter's first birthday, your sister's wedding and a  whole lot more.
Browsing through their website is like diving into a world of exciting possibilities. Their cards are far from basic if you ask me. They are all beautifully designed, highly customizable and lovely to look at.
Besides their elegant layouts, there are a lot more reasons to love Basic Invite :
Nearly unlimited color options and live previews
After selecting a design,  Basic Invite lets you choose from 180+ incredible color choices for each element! How wonderful is that?  I got to play around with the colors a bit while looking through their personalized graduation invites. It's really fun because you could see the color changes almost instantly!
Custom samples
With Basic Invite, you can have your actual invitation printed out before placing your final order. This means you get to see how well the design translates on paper and feel the quality of the paper used. This feature makes sure you get the look and feel that you want for that special day.
More than 40 colors for envelopes
Usually, for each card, a luxurious 70lb white envelope is included for FREE. But with an upgrade, you could be more whimsical and choose from more than 40 colors for your envelopes! Your cards would definitely stand out even before they are opened. Plus, all of their envelopes come with peel and seal so no need to waste time and effort securing them shut.
Font selection
Basic Invite wants you to have cards as unique as you are to the smallest detail.  When choosing fonts, enjoy trying out from their collection of over 100 different font styles. Get fonts that match your personality and mood.
For instance, I could easily choose fonts for this thank you card.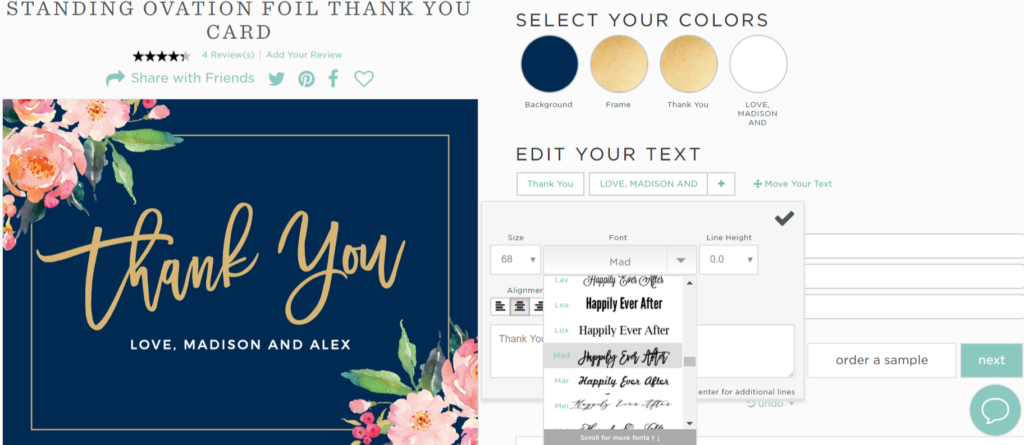 Address Capturing Service 
Basic Invite's address capturing service allows you to simply share a link on Facebook, Twitter, Instagram, or any other social media platform to request your friends' and family's addresses. These details will be stored in your account and can then be selected during the design process. And by the way, for all Christmas card orders, Basic Invite offers recipient address printing at no cost.

Foiling
Speaking of Christmas, it's never too early to think of the holidays! Add a touch of glam to your greetings with foil holiday cards! They come in gold, silver, and rose gold. There are options to have flat or raised foil on all of Basic Invite's foil designs.
Impressive Printables for FREE
I am a big fan of printables so having FREE ones is always a treat. They have gift tags, checklists, cards, and even calendars!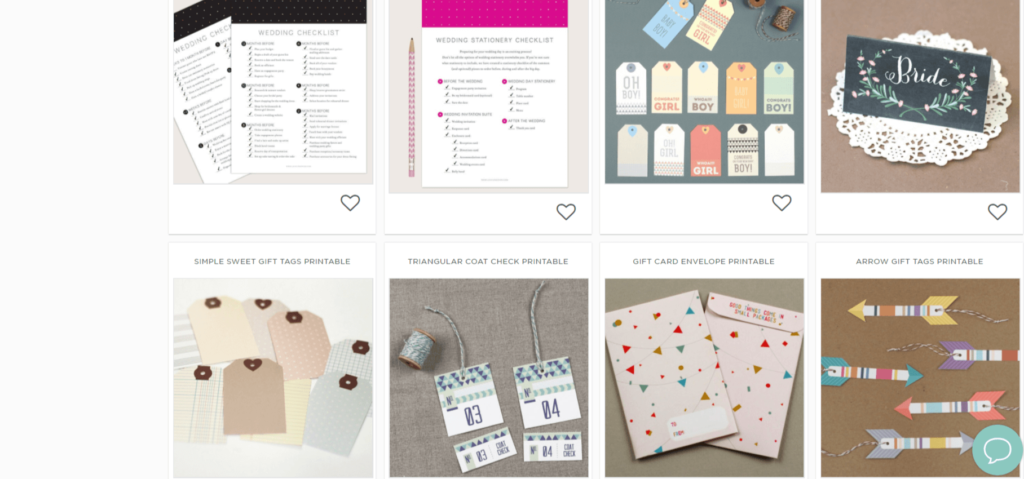 And since it's graduation season, here's some inspiration: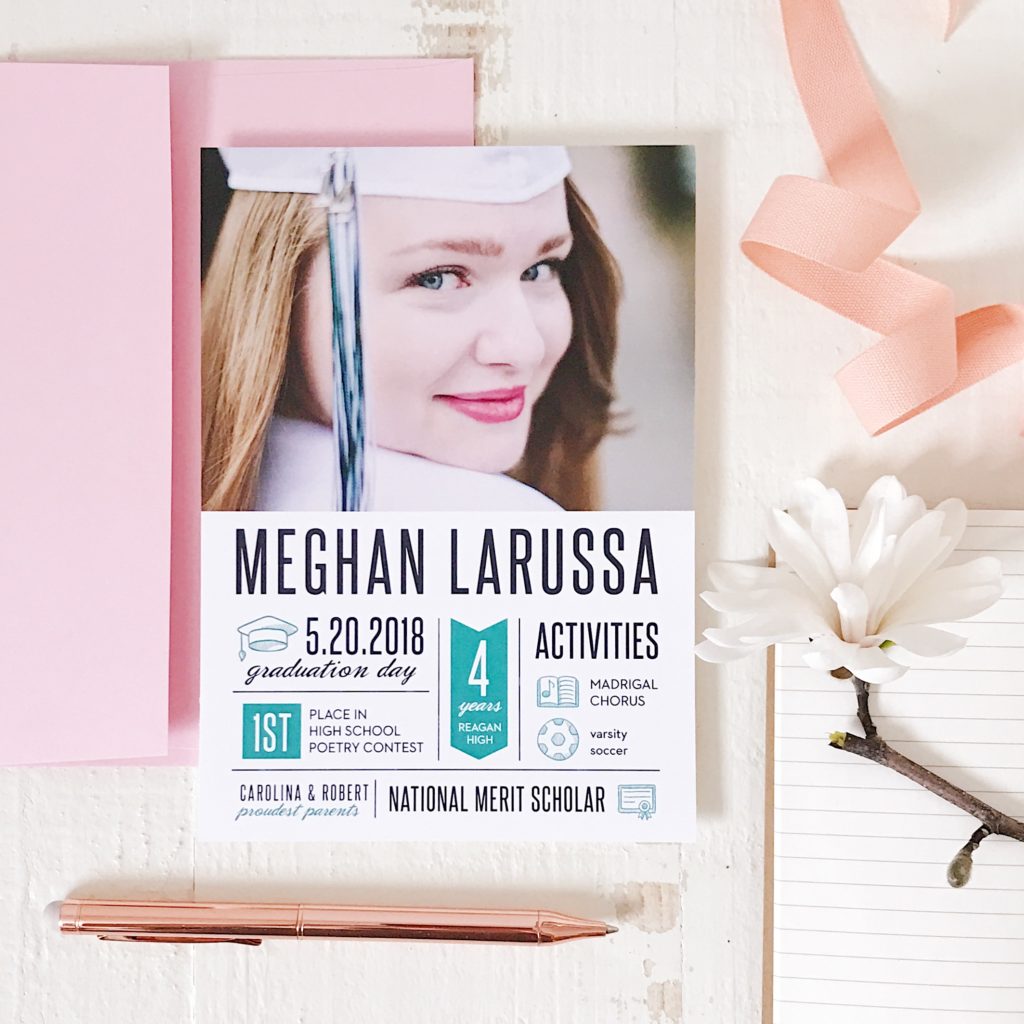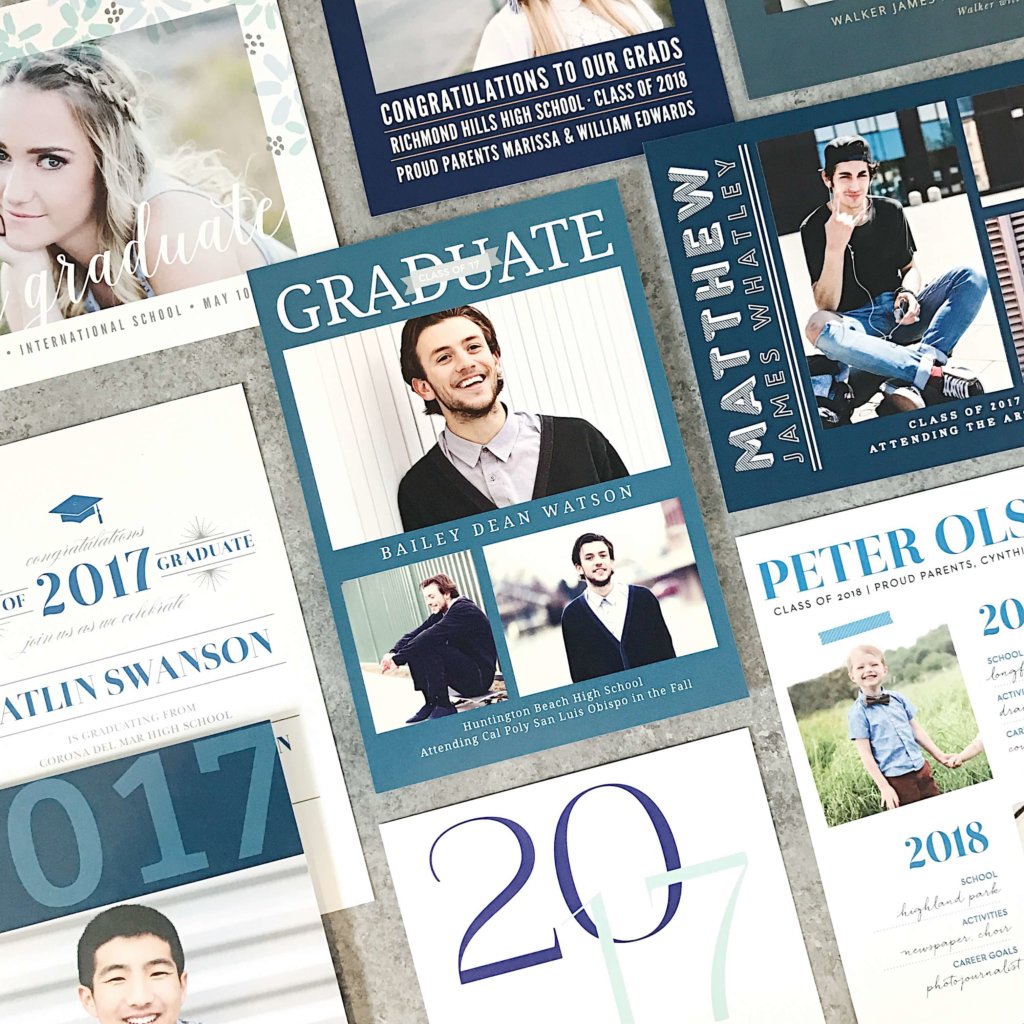 Amazingly, Basic Invite is offering 15% off with coupon code: 15FF51  right now! 
So, get started on sharing wonderful news with your friends and family with Basic Invite!
Explore their designs and get updates on their social media:
Basic Invite
Website / Facebook / Pinterest / Instagram / Twitter
Enjoyed this post? Subscribe below!
Let's keep in touch!