Do your kids love drinking milk?
My daughter looooves drinking milk. She rarely drinks shakes or juices, but she has milk quite often. She enjoys it cold and with her curved stainless steel straw.
Well, we recently got to try Arla Organic Powdered Milk. So, I'd like to share what we think about it.
Arla Organic Powdered Milk
Though we're not entirely into organic products yet, we do buy organic produce from time to time.  It's great that they are much more affordable now compared to before.
When I was living in Baguio, I'd buy organic vegetables from a stand run by nuns near Baguio Cathedral. They were quite expensive, but I wanted to try them. Plus, I think they were contributing to a charity, so buying from them makes me feel like I'm helping out too.
I also use some organic skin and personal care items: lip tints, hand wash, and toner.
But anyway, what are organic products?
According to Organic.org, these are the ones that have been cultivated without using synthetic fertilizers, pesticides, ionizing radiation, or genetically modified organisms.
Now that we know what organic products are, here are five (5) reasons why we love Arla Organic Powdered Milk.
It comes from cows that roam freely and feed on organic grass
I'm picturing happy cows grazing in the countryside. Arla Organic Powdered milk comes from farms and dairies across Europe.
And drinking milk that comes from those cows just makes it a feel-good experience.
I feel like consuming a product that supports this kind of environment would hopefully make it the norm someday. I know it's far-fetched, but a mom can dream, right?
Arla Organic Powdered Milk has passed the highest quality European standards for organic products
Unfortunately, in our country, there's no organization that regulates organic products. That's why when the label said that this brand was able to meet stringent European standards, I felt confident that I'm giving my daughter only natural goodness.
It has 50% more protein and lots of good nutrients
Did you know that every day, kids need 1 gram of protein per kilogram of body weight? This means that if your child weighs 30 pounds or 13.6 kilos, he or she needs 13 grams of protein.
As we all know, protein is vital for a growing child to have strong bones and healthy muscle development. With Arla Organic Powdered Milk, my daughter gets more protein compared to other milk brands.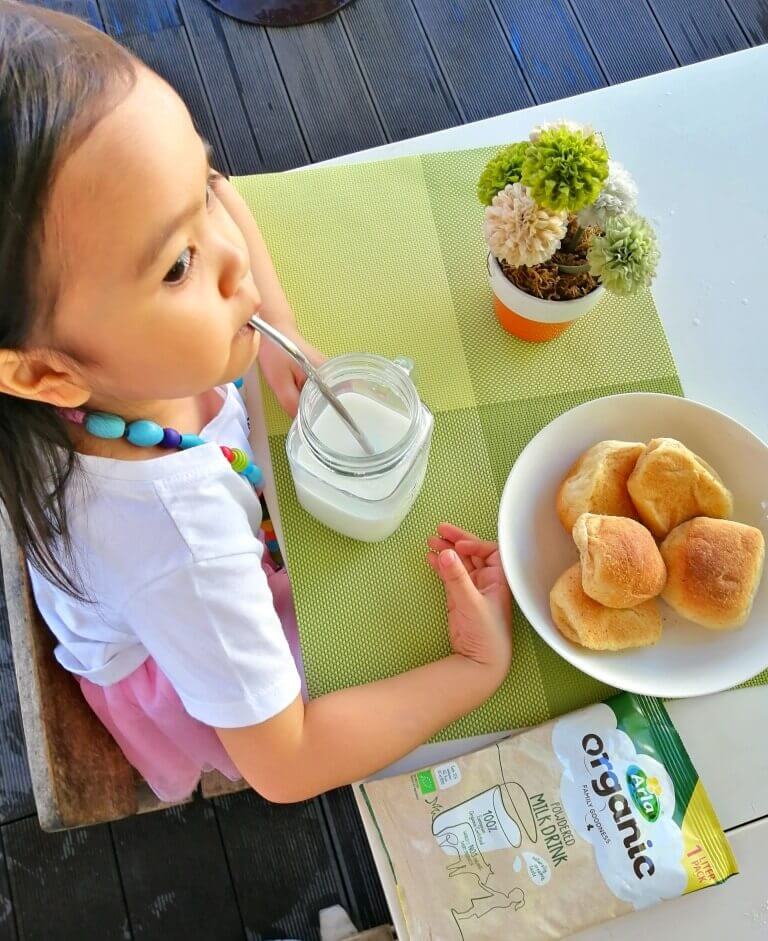 Besides this, it contains other essential nutrients such as potassium, vitamin B2, vitamin B12, zinc, and phosphorus.
It's 
free from pesticides, growth hormones and other artificial ingredients
Yes, it's certified organic, so all good from farm to fridge.
It tastes so delicious!!
I speak for both of us — my daughter and me. Personally, I'm not too fond of milk that's sweet so this one passed my taste test with flying colors.
As for my daughter, well, she can't get enough of it. That speaks for itself. In the morning, she'd say, " Mommy, milk?" then a little later in the afternoon, she'd ask for it again.
Have you or your kids tried this brand of milk? How was it?
Arla Organic Powdered Milk
Enjoyed this post? Share it!
Let's stay connected!