Have you ever wondered what it would be like to work from home?
I can tell you.
It's pretty amazing!
I have a flexible schedule that allows me to work when I want to and attend to my daughter when she needs me. Like, I'd be typing at breakneck speed then I'd hit pause on my timer because my daughter needs some snacks.
I could call in sick today. Then, make up for the lost hours tomorrow.
Last week, my daughter had a fever for almost 3 days. Luckily, it wasn't anything serious. And I was able to push back my working hours so she could have diagnostic tests done.
Just like that.
No heavy traffic. No risking your life through heavy rains and floods. No rushing because you're running late.
I mean, I'm so thankful for the FREEDOM it gives me to do something I love to do — WRITE.
Not to mention, I feel really good because I'm able to contribute financially to the household. And even help others.
Freelancing has made my life better. I'm a lot more confident about skills now.
But of course, there's always room for improvement.
That's why I'm joining Manila Workshops' Entrepreneurs and Freelancers Forum this coming January 11. 
And I was chosen as a media partner for this event! So exciting!
Entrepreneurs And Freelancers Forum 2020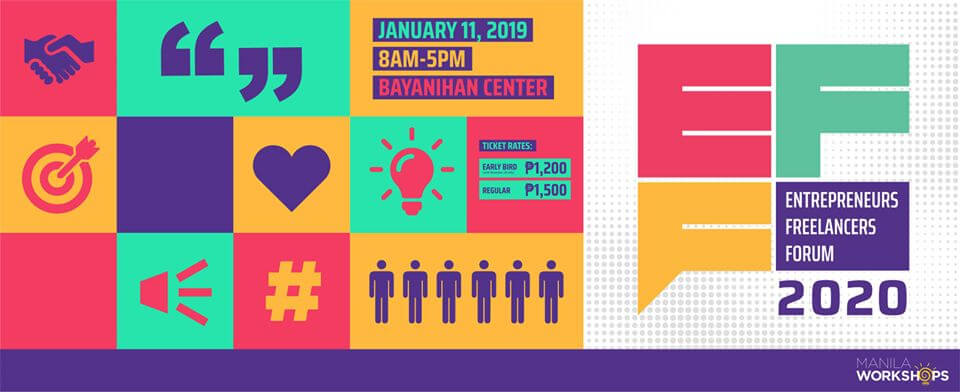 And here are three big reasons why you should join too!
You'd get Power talks from 19 incredible speakers
It's a full day event filled with quick (15 minutes) but insightful advice from various business and freelance industry leaders.
Some of the speakers at the event include:
Ginger Arboleda— Founder and CEO, Manila Workshops

RJ Ledesma— President, Mercato Centrale Philippines

Joyce Pring—  Entrepreneur and TV/Radio Personality

Maria Korina Bertulfo— Founder and CEO, Filipina Homebased Moms

Jason Dulay— Founder, VABootcamp

Liberty Baldovino— Founder, The Youthful Granny Writing Solutions

CJ Cajoles— Founder, Online Filipino Freelancers

Prim Paypon—Executive Director, The Incubator at AIM

Aiza King — Founder, Graphic Artists of the Philippines

EJ Arboleda — Founder and CEO, Taxumo

Joyce Talag— Professional Coach, Trainer, and Facilitator

and many more!
You could network and socialize with successful business owners and remarkable freelance professionals
You'll have this rare opportunity to mingle with the people who are doing really well in this industry. Learn from them. Talk to them about freelancing or entrepreneurial journey. Share with them your struggles and ask for expert advice.
Wouldn't it be incredible to get first-hand tips from those who've done it and established themselves in their respective niches?
You'd get to feature your products and services and increase brand awareness
Entrepreneurs And Freelancers Forum has booths and sponsorships you could take advantage of.
For details about this, just email [email protected]
How to Score A FREE ticket to 

Entrepreneurs And Freelancers Forum 2020
 Avail of any Taxumo's subscription plan 'til January 5, 2020 and you get a FREE ticket!

 Join my giveaway!

The mechanics will be posted in Homebased Professionals' Hub, a supportive  Facebook community for people working from home and on my Facebook page. So, make sure to join this group. It has lots of FREE and practical lessons about thriving in the online world. Plus, their paid courses are so worth it!
Again, this much-anticipated event, Entrepreneurs and Freelancers Forum 2020, will be happening on January 11, 2020 (Saturday) at Bayanihan Center, Pioneer St., Pasig City from 8 AM to 5 PM.
Can't wait and hope to see you there!
          Entrepreneurs and Freelancers Forum 2020
Enjoyed this post? Share it!
Let's keep in touch!