I have a toddler. So you could imagine why I could be a germophobe at times. My daughter likes touching surfaces, opening doors and occasionally enjoys crawling on the floor. Thankfully, she hasn't had stomach problems yet but as a mom, I'm always on the lookout for natural and effective products that would help wipe out germs.
Antiseptic vs Disinfectant: Which is which?
Like other moms, I have bought both antiseptics and disinfectants not realizing that they are different. Both antiseptics and disinfectants eliminate disease-causing microorganisms. Their primary difference is that antiseptics are applied to the skin whereas disinfectants are for equipment and surfaces.
Biocair® Disinfectant Pocket Spray
Biocair® Disinfectant Pocket Spray is an alcohol free handy pocket spray that contains mainly ultra pure water and BC-65. BC-65 is a non-toxic formulation that kills pathogens by destroying its cell wall.
Which harmful pathogens does it kill?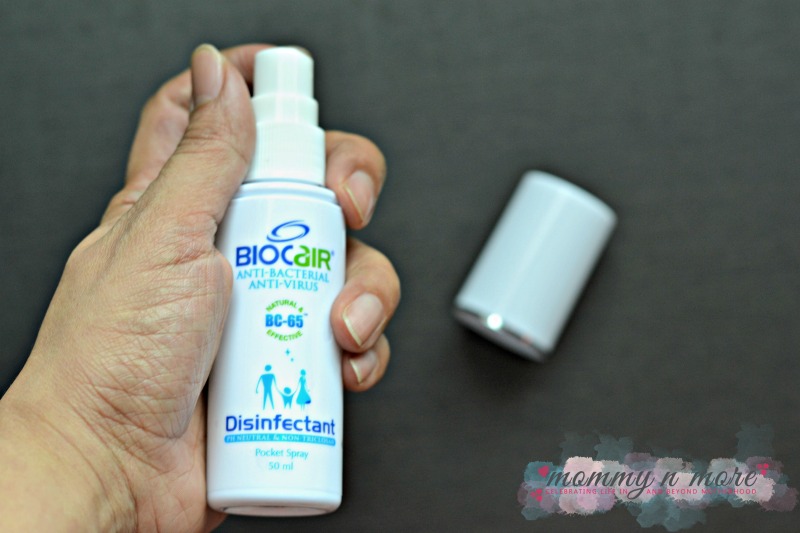 Amazingly, it can kill 99.99% of harmful pathogens on surfaces within 30 to 60 secs.
| | |
| --- | --- |
| 30 secs |  60 secs |
| E.coli | Bacillus subtilis |
| Staphylococcus aureus | |
| Pseudomonas aeruginosa | |
| Candida albicans | |
| Aspergillus brasiliensis | |
In just 30 secs, Biocair® Disinfectant Pocket Spray eliminates 99.99 % bacteria, yeast , and fungus! And in only 1 minute it eradicates bacterial spores! These pathogens can cause stomach problems, skin diseases, and lung problems.
Biocair® Disinfectant Pocket Spray is a health brand from Singapore.It has undergone testing by fully certified independent laboratories and is in compliance with the United States Pharmacopeia Standard.
How do I use Biocair® Disinfectant Pocket Spray?
This spray is very easy to use. You just hold the bottle in an upright position and spray 4 to 6 inches away. Cap it securely after use. There is no need to rinse the surface.
You can use it to disinfect items and common touch point areas like toilet seat covers, toys, kitchen surfaces, phones grocery carts and door knobs.
Putting Biocair® Disinfectant Spray to the Test
My main concerns for a disinfectant pocket spray, besides its germ-killing powers are its scent and gentle quality. I have a young child so it's important that the product be non-irritating. I sprayed some on my daughter's pull toy and observed for any skin irritation or unpleasant reaction after. No negative reactions. In fact, she wanted me to spray more on her toy. I think it's because it's fragrance free and gentle on skin.

Besides these, there are  other things I love about this product:
It is non-toxic, eco-friendly and pH neutral

It's alcohol free and non-triclosan. Research has shown that triclosan might contribute to antibiotic resistance, endocrine problems and a weak immune system.

It can deodorize surfaces
As a mom, it is reassuring that a fast, effective and natural product like this is commercially available.
You can buy the Biocair Disinfectant Pocket Spray at selected Mothercare branches in Metro Manila, Ogalala in Shangrila Plaza and Milk and Honey Ph website.
BIOCAIR® DISINFECTANT POCKET SPRAY GIVEAWAY
Giveaway time!! Our generous friends at Koofty Enterprise, the distributor of Euky Bearub and Biocair® products will be giving away Biocair® Disinfectant Pocket Spray pocket spray to one Mommy N' More lucky reader!
Want to join? Just click on the Rafflecopter below! Only residents of the Philippines 18 y/o and above can join. Shipping will be handled by Koofty Enterprise. This giveaway ends on September 23, 2017 and the winner will be announced here and on Mommy N' More Facebook page.
Biocair Philippines