If you're looking for simple ways to save money on groceries, you're in the right place!
I've collected some practical ways to spend and stretch your grocery budget.
Buy in bulk
You can save a small fortune buying certain goods in bulk. Stock up on personal items like tissue, shampoo, toothpaste, and sanitary napkins.
For school and work, make sure you have your supplies – paper, crayons, pens, and pencils. We also buy cleaning and laundry supplies in bulk. 
If you plan to buy food in bulk, make sure to check their expiration date. Moreover, strictly follow their storage instructions.
Plan your meals
When you make meal plans every week, you're able to gauge how much your family consumes. That way, you'd be able to buy just what you need and avoid food waste.
Besides that, you'd be able to save a lot of time in the kitchen because you don't have to think about what to prepare during meal times.
Cut down on meat or even become vegetarians
Meat can be expensive so lowering your consumption can result in big savings. You could also portion your meat and just use small portions to add flavor to your dishes.
For us, we rarely eat meat but we like fish. So, one way to save is make soup with lots of vegetables. Though a bit troublesome, fish lumpia can also go a long way.
Jot down what you need and stick to your list
My mom always had a grocery list when I was young. I think it's really great to have that list to avoid impulse buying and save time too.
To make your list organized, you can categorize based on the aisle they're located it. I'm pretty sure you already have a map of your favorite supermarket in your mind. So, imagine that and list the items as you 'go through' each section.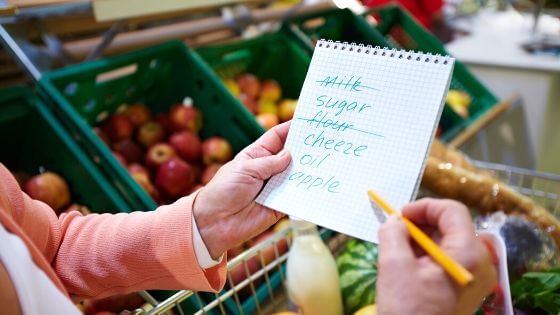 Pay with cash or debit card to save on groceries
While paying using a credit card seems convenient, it's better to buy your groceries with cash or debit card. That way, you won't have to worry about interest.
Take inventory before grocery shopping
Some moms have an inventory of their pantries and cupboards before doing the groceries. But I read somewhere that a quick way to do this would be to take a picture of your pantry.
I must admit, there have been times when we got too many items because we didn't take a look at what we had first.
Try grocery shopping online
There's a lot of available sites and apps that can save you time and transportation cost. 
Here are some you could check out:
Online Groceries
Landers
SM Market
Walter Mart
Some municipalities have pasabuy or online palengke. My friend in Pampanga was able to take advantage of this. She found it through a Facebook group.
Buy local and in-season produce
Local and in-season produce are much more affordable than foreign and off-season ones. So, instead of apples and oranges, buy mangoes and avocados when they're abundant.
Make your own cleaning products
Cleaning is one thing that's always on a mom's to-do list. So, making our own cleaning products can save us a small fortune. 
So, here some concoctions you could try
All-purpose cleaner
• 1 tbsp baking soda 
• ¼ cup of white vinegar
• 1 litre of hot water
• ½ a lemon
Recipe: simplebites.net
Window Cleaner
Kitchen cleaner deodorizer
• 4 tbsps baking soda
• 1 quart warm water ( approx. 950 ml)
Recipe: goodhousekeeping.com
Toilet cleaner
• ¾ cup baking soda
• ¾ cup white vinegar
• 10 drops of tea tree oil
• 10 drops of lavender essential oils
Recipe:  frugallysustainable.com
Disinfecting solution against COVID-19 
The Center of Disease Control also shared a bleach solution you could use on hard non-porous surfaces. 
• 5 Tbsp (1/3 cup) bleach 
• 1 gallon (3.7 liters) water 
Buy items at your local market less often
It's undeniable that it's much cheaper to buy goods from your local public market than the grocery. It would also be more cost-effective to have fewer shopping trips.
In our case, my husband goes to the market once a week, every Sunday at 5:30 am. That way, we save time since there's no heavy traffic and we get the 'freshest' catch of the day. 
Avoid the junk food and soda aisle
Yes, it's really tempting to go all-out on 'comfort food.' But, you can probably save a few hundred pesos every month just by skipping on chips and soda when you're grocery shopping.
Buy or make frozen produce
This is good for fruits that are not in season or not readily available.  For example, I bought a bag of frozen strawberries which we use to make smoothies every now and then.
You can even freeze your vegetables. The best ones to freeze are corn, green peas, carrots, and spinach. Before freezing the vegetables, boil them briefly then putting them in an ice bath.
Having frozen produce can save you a lot of time in the kitchen.
Make your own version
Everything is on the internet so if you're missing food 'from the outside world' you can pretty much DIY it. For instance, we've made our own pan de sal, salted eggs, Japanese ramen, and chili garlic. 
Yes, Google is our friend.
Avoid buying processed and cook from scratch
This is probably the most classic tip on how to save money on groceries. Remember, we're paying for convenience.
So, instead of buying a pack of ready made mac and cheese from a box, I make it with just a few ingredients: quickmelt cheese/cheddar cheese, milk, butter, squash, and macaroni.  
You can even save by making homemade pasta sauce with tomatoes and seasonings. By the way, putting in some milk makes it more delicious!
Plant your own food
This is kinda easy since there are certain veggies that are low maintenance. For one, I was able to grow kang kong in a mason jar. There are many other vegetables you can actually plant from kitchen scrap.
There are certainly more ways to save money on groceries but I think I covered the basics that we can apply now.
Do you have any other tips on how to save money on groceries?