We're all worried about the impact of the current pandemic on our daily lives. The pandemic is wreaking havoc not only on people's physical but mental health as well.
Besides this, lockdowns have also significantly affected our economy.
I recently joined a virtual marketing outlook briefing organized by Sun Life Asset Management Company Inc (SLAMCI).
In the press briefing, they shared their detailed data on how the coronovirus pandemic has affected various sectors.
Businesses Closing Down
In a matter of months, businesses have shut down. Many people lost their jobs. Several big establishments Marco Polo Hotel in Davao and the Century Seafood Restaurant in Manila have shut down.
Moreover, Okada Manila announced that they've had to let go of 1000 workers. 
Besides the hospitality sector, the retail and consumer sector have also been seriously hit with malls closing down. Production of goods have also been stopped. 
Going Digital
With person-to-person interaction limited to prevent the transmission of the virus, companies had to quickly transition online.
E-commerce sites are booming with everyone shopping online. Online education and entertainment are also on the rise. 
It's good that Sun Life has always maintained its strong digital presence according to Sun Life Philippines' President Ms. Valerie N. Pama. Clients are able to access resources through their client portal, Sun Life's Sun Rise Portal.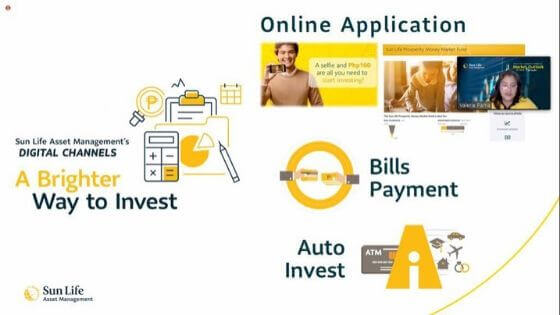 People can start investing by filling out an online application form and as low as P100.
Aside from this, SLAMCI continues its advocacy of financial literacy by conducting webinars about mutual funds and investments. 
Government Response To the COVID-19 Pandemic
Mr. Michael Gerard Enriquez, Sun Life Philippines' Chief Investments also detailed the market outlook for this year. 
The government has been steadfast in its support to the economy. The Bangko Sentral ng Pilipinas bought (for the first time) government bonds from the BTR worth P300bn.
Moreover, through the Bayanihan Act As One Law,  the President  was able to  allocate P200bn for direct handouts to 18mn families (P5-8k/month for 2 months).
Our country has also borrowed from ADB, World Bank, and AIIB in the amount of $6bn.
Economic Recovery: U-Shaped Predicted
According to Mr. Enriquez, we are expecting a U-shaped economic recovery which means a gradual rise can be hoped if the effects of the pandemic are contained.
The economy is volatile at this point. With the new normal, it may take awhile for us to bounce back. However, he remains optimistic that with the establishments and offices slowly opening, we'd be able to gain what was lost in the previous months due to the strict community quarantine imposed. 
As the metro enters general community quarantine, I hope that people continue to take precautions against the virus. While it's great that opening businesses would jump start our economy, I personally hope it won't be business as usual. 
Until we have an effective vaccine is distributed widely, we cannot rest easy.  We must all remain vigilant and protect ourselves. Healthy people will foster a thriving economy.