Kids starting school can be both exciting and a little stressful for parents.
My little girlie will be starting nursery the week after next. As a first time parent,  I have all these concerns swirling in my head ,
" Will she enjoy being in school?"
"Will she be scared?"
"Will she make friends?"
It's certainly a milestone and truth be told, I'm a little emotional. My baby is now a little lady in nursery! But at the same time, I'd like school to be a positive experience for her.
Some days, she'd say out of the blue and a big smile, " Mommy, can I go my school please?" Other days though, if you'd ask her, " Do you want to go to school?", she'd  shake her head no.
So, here are simple tips to help your little one adjust to his or her first day at school.
Be excited or put on a brave face but give yourself permission to be sad
I recently learned that instead of saying, " I'm stressed" when you're feeling anxious or overwhelmed, it's better to say, " I'm excited" for your mind and body to respond to stress more positively. By showing you're child that you aren't scared, you're teaching her that being in school is a good thing, that it's something to look forward to.
Tour the school and the neighborhood
Before school starts, it's always a good idea to get a feel for the school environment.  You could take her to see the classroom, playground or the library perhaps. This will make her at home in school. You also need to be aware of the safety of the neighborhood she's going to be in for a few hours. Does the area flood? Are there any stray dogs? Is it near a highway or in a village? Do they have a security guard?
Read books or watch videos about starting school
Books and videos can be great tools to introduce the concept of going to school. Truth be told, my little girlie watches Disney Junior's Vampirina and I think shs'd like to go to school because V, the main character, does and seems to enjoy it.
We also have several Adarna books in two (2) languages that mention being in school. My daughter's favorite one, " But That Won't Wake Me Up" is about a girl who feels uneasy that she won't wake up in time for school. Her mother reassures her  that she'll  help her wake up with fun and quirky ways such as bringing a marching band, or pulling the sun into her room.  In the end, her mother told her that for her to wake up early she needs to go to bed early too.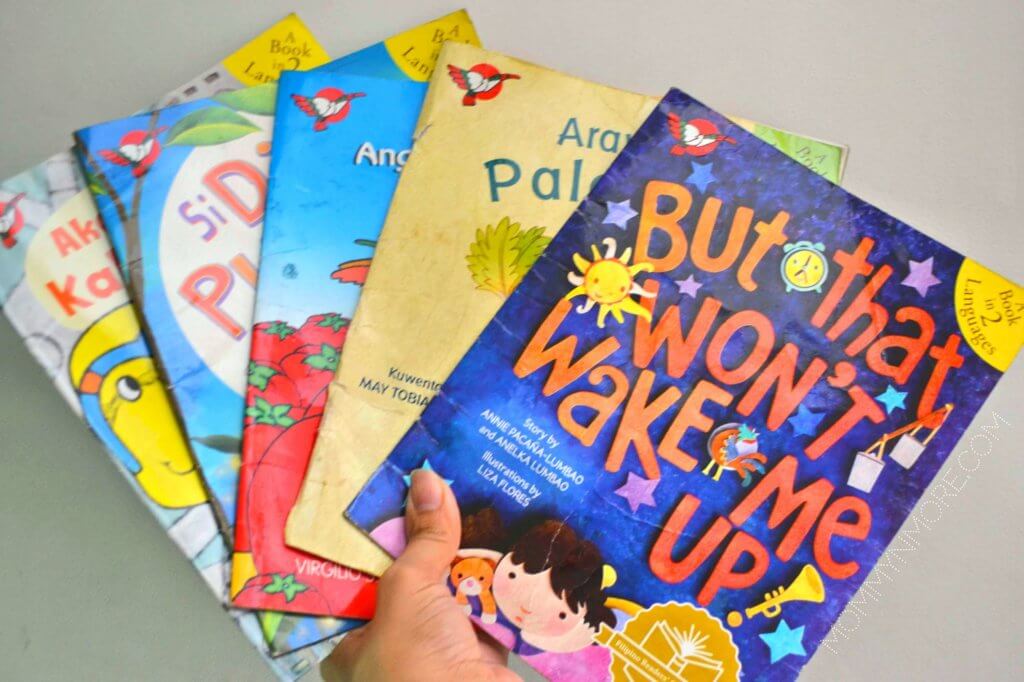 I think that book would also be great because aside from going to school, your child will also realize that he or she needs to go to sleepyland early too.
Get to know the teacher
Early on, it's great to have rapport with your child's teacher. Besides teaching your child, she'll be a big influence on him or her. Perhaps you could spend a bit of time sharing things about your child. You could also get to know a bit about her teaching method so you can follow through at home.
Get them excited by sharing things you'd need to do for school  and activities she or she could engage in
Buying school supplies, getting a uniform , meeting other kids or doing art about going to school can certainly get your little one excited for the big day!
Well, we haven't exactly started buying school supplies but I've asked my little girlie what kind of school bag she'd like. I think it's a tossup between My Little Pony or Frozen.
She won't be having a uniform til July so I just checked if she has enough clothes. Turns out, a lot of her clothes were already too big for her. Instead of having clutter , I gave a lot of them away and the rest went into clear storage bags.
It'll probably take a few weeks for my little girlie to feel settled but I'm feeling good about this change. Wish me luck!
Do you have any tips for me?  How was your child's first day at preschool?
Enjoyed this post? Subscribe below!
Let's keep in touch!