It's been 96 days since the community quarantine was imposed here in the metro. The day before, I remember rushing to a nearby convenience store grabbing all that I can, fearing basic commodities might be affected.
As a nurse, I knew life was never going to be the same. As a mom, I feared the worse was about to happen.
And I was right.
We now have a new normal to our day. Cases continue to rise, and we haven't flattened out the curve… yet. 
My daughter and I haven't left the house since the enhanced community quarantine started while my husband goes out wearing a face shield and a face mask.
Instead of reminding him about his driver's license, I'd tell him "Don't forget your alcohol, shield, and face mask." When he returns home with groceries, I meticulously wipe each item with alcohol.
We get our daily dose of exercise and sunshine on our rooftop.
We've been more conscious about washing our hands. My daughter likes to wash her hands more often because she knows it helps keeps the germs away.
But more than those things, I know I'll never be the same. Because while the pandemic has drastically changed the way we live, it has imparted life lessons I wouldn't have noticed otherwise.
Life is short so tell people you love them
Yes, this life lesson might have been buried deep somewhere between the house chores and the daily grind. But when it hits you, it shakes you to the core.
I have a lump in my throat as I type these words.
I've had some friends lose their loved ones. One batch mate lost both her parents in just a few weeks. 
I wept for her loss.
I can't imagine how hard it was and is for her. 
Life is so fragile. We're healthy one day and the next, we're fighting for our next breath.
Every day, I fear for my mom who's in her 60s working as a nurse abroad. She lives with my dad who's diabetic and my two sisters.
So, when we talk, I always tell them I love them because really, you never know what's going to happen the next day.
There's that gnawing fear in me that my mom might get infected and worse, bring home the virus.
While it's scary, it makes me realize how precious our video chats are. I try to call almost every day just to check how everyone's doing.
All we have is now, and I must treasure that for all its worth.
We need to take care of ourselves, especially our mental health
Watching the news about this pandemic has caused me a lot of stress. There were times when I'd suddenly get moody and overwhelmed.
What will happen? When is this going to end?
Half of me wanted to lose myself in Netflix kdramas while the other half wished this was all a bad dream.
So, I had to fight that anxious feeling. I knew if I gave in, it would paralyze me and my eventually, my family.
My hands were kept busy doing chores and taking care of my family. 
But, I also set time for myself to do yoga, meditate, and dance. Sometimes, my daughter would join me in my yoga session.
I also learned to be kinder to myself. 
My home looks messy at times and that's okay.
My daughter would sometimes have more screen time than she did before and that's okay.
I didn't have to be a supermom and let all the 'should bes' rob me of this precious time with my family.
When it's messy, my daughter would sing our CLAYGO song I invented ' Claygo Claygo, Clean as you go, Clean as you go.' We'd clean up together.
And we'd watch cartoons and have game nights with my husband. 
We're all doing the best we can so let's cut ourselves some slack.
You don't need a lot to enjoy life or help other people
It's amazing how children enjoy the simplest things. The other day she wanted us to 'climb a mountain' which was our stairs.
For the first time ever, we built a blanket fort with our dining table and tried to hide from daddy bear.
Also, we got to experiment in the kitchen. We made flatbread together. It's easier than baking bread. 
I was able to teach my daughter some Filipino games like pitik bulag and piko. We'd use the floor tiles to hop around. But she reinvented it with turns and fancy moves.
Here are some of our quarantine bonding moments:
Simple joys are the best.
What makes my heart melt is hearing her say ' I love doing things with you, mommy' and 'Huggy, kissy.'
It was tiring being with her 24/7 but we got to do things together that we've never done before.
Yes, we don't really need much to enjoy and help other people.
We can share what we have. For us, we shared some food and stuff to our neighbors in need. 
With businesses shutting down everywhere, we can help local businesses survive and thrive through this crisis.
We can share a positive review about a product or a service we've tried. It doesn't take much effort on our part but it helps businesses a lot since many people read reviews before buying or trying a service.
I've opened up my Facebook page for people to promote businesses.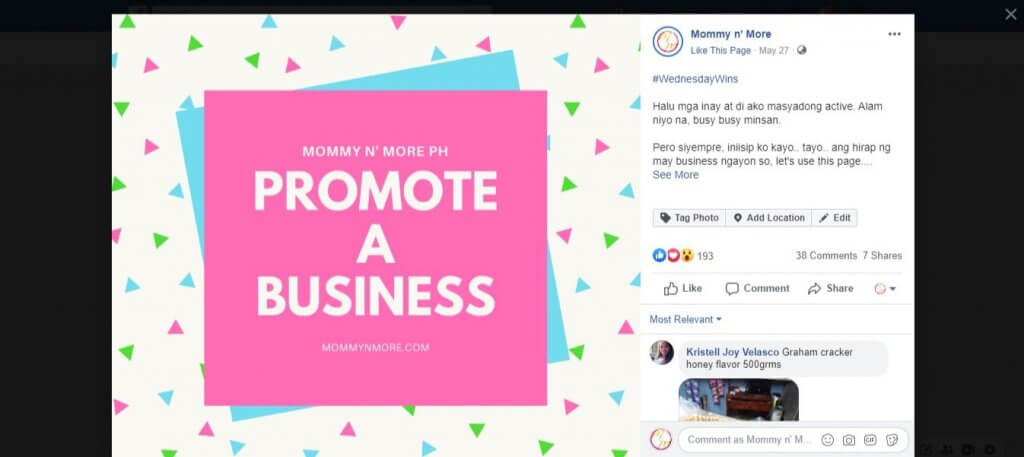 Let's continue supporting local businesses.
Let's keep buying from our relatives, friends, and neighbors and sharing what we like about their products and services.
Regardless of how you've helped, it only means our bayanihan spirit is alive.
People are pooling in money, efforts, and resources to help provide the needs of our front liners and people living on the streets.
I'm part of a mommy community that helps raise funds to give food and resources to those in need. This is a continuing effort.
True connection is so much more than being friends on social media
This pandemic has urged me to reach out to my batch mates who are doctors. We've been friends on Facebook but I've never chatted with them since college.
That's more than 15 years ago.
But, I really wanted to know how they were doing. For the first time, I wanted to connect. 
And I was happy when they opened up about what was happening. They were also afraid. But they show up because it's their calling. 
For me, they are all living heroes.
All the doctors, nurses, delivery men, police officers, and the other sectors that serve the public during this pandemic deserve recognition and appreciation.
I'll continue to reach out to other people.
I just realized that it would be such a waste to have so many friends on social media and not really be friends with them, don't you think?
Maybe they need someone to talk to. We might share the same interests. We never know until we reach out.
 I want real connections. 
There is always hope
"Hope can be a powerful force. Maybe there's no actual magic in it, but when you know what you hope for most and hold it like a light within you, you can make things happen, almost like magic." – Laini Taylor
While the war is far from over, there's so much to be hopeful about.  Scientists all over the world are working hard to come up with a safe and effective vaccine.
People are becoming more concerned about others by thinking they're infected when they're in public. When we practice social distancing, we're practicing kindness.
We're learning skills that can help us be better versions of ourselves.
I've learned to be more budget-conscious and resourceful. I've learned how to bake pan de sal, cut my husband's hair, and plant a vegetable garden from kitchen scrap.

Beyond material things, I learned what matters are the people we call home. 
We're slowly adapting to the new normal.
We are resilient.
That indomitable human spirit and our ability to adapt makes me feel hopeful.
We need to keep that hope alive not just for ourselves, but for our children.
At night, we pray together as a family that there would be no more cases and all the sick may be healed.
And I hope one day, I'd get to see my daughter's beautiful smile as she rides her bike outdoors like she used to.
—————————————————————————–
This story is an entry to ComCo Southeast Asia's "Write to Ignite Blogging Project". The initiative is a response to the need of our times, as every story comes a long way during this period of crisis. Igniting and championing the human spirit, "Write to Ignite Blog Project" aims to pull and collate powerful stories from the Philippine blogging communities to inspire the nation to rise and move forward amidst the difficult situation. This project is made possible by ComCo Southeast Asia, co-presented by Eastern Communications and sponsored by Electrolux, Jobstreet, and Teleperformance.