This is my little girlie in one of our Gymboree adventures. She loves to toss balls, run, slide and go into tunnels when she's in play areas. It's great because she doesn't have lawlaw wet diapers to stop her from having fun!
With the Asian games in full swing, everyone's excited to see many athletes in play. But let's not forget who has what it takes to be unstoppable at play — our babies and toddlers!
This August 29, Southeast Asia's biggest e-commerce portal Lazada and one of best known diaper brands Pampers bring you the first ever virtual #babymarathon!
Be part of this Record-Breaking #babymarathon
To highlight the unique prowess of babies and toddlers at play, this 42-minute #babymarathon video montage to be aired on August 29, will show hundreds of babies and toddlers from  the Philippines, Thailand, Indonesia, Vietnam and Singapore, all "running" in a relay race.
In the final video, parents may even find their children racing alongside Seve, son of Filipino celebrity and Pampers ambassador Toni Gonzaga.
Ready, get set, go!
If you have diapering babies aged 5 months and above,  you're invited to join Lazada and Pampers in creating this one-of-a-kind feat! The virtual #babymarathon featuring the little athletes who joined across Southeast Asia will be aired on Lazada on Super Brand Day on 29 August.
Come and join the fun in two ways:
Take a video of your baby walking, playing or running about in their Pampers diaper and post it using this link, with the hastags #babymarathon and #PampersxLazadaPH

You can also join our professional crew at Gymboree Greenbelt 5 on August 27, 2018, to film your little one in action during the #babymarathon celebration. Register in advance at this link.
Not all videos can be featured in the 42-minute video montage. But the most liked videos will win a cash prize of PHP30,000 or 6-month supply of Pampers diapers.
Join a marathon of Pampers Deals on Lazada
To help babies enjoy their weekly marathons free from wetness and the discomfort of lawlaw diapers, Pampers has put together a series of exclusive offers on 29th August 2018: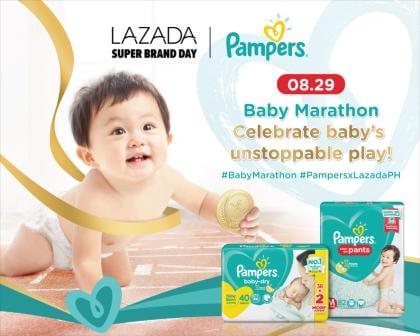 From 12am midnight, there would be promos of 35% off on Pampers Baby Dry Newborn Diapers and PHP100 discount vouchers for minimum PHP3000 purchases, which are limited to a 1000 units only.
Lazada's Group Chief Business Officer Robin Mah said: "We are proud to be partnering with Pampers, one of the world's leading diapers brands for Super Brand Day to showcase the unstoppable energy of babies while offering moms exclusive offers and delight. It is also a chance to spotlight their babies through fun experiences. "
Akhil Meshram, Pampers Philippines Brand Manager said: "Pampers recognizes that one of mom and baby's biggest frustration are sagging diapers, and how this can affect babies' ability to move and learn from their surroundings. The #babymarathon is part of our My Baby Can Do That Campaign, where we hope to show how babies can do nakaka-WOW and amazing things when they have the freedom to move, especially in a less lawlaw diaper. Lazada, given its massive footprint across Southeast Asia is the ideal platform to amplify our efforts."
For more information on Super Brand Day, visit Lazada.com.ph and its social media pages.
Facebook: https://www.facebook.com/LazadaPhilippines
Instagram:https://instagram.com/lazadaph/
Twitter:https://twitter.com/LazadaPH
For more information on Pampers, visit Pampers.ph and its social media pages.
Facebook: https://www.facebook.com/PampersPh/
Instagram: https://www.instagram.com/pampersph/